'Moonlight Drawn by Clouds' Actors Fulfill 20% Viewer Rating Promise
by
YuGee
/ Oct 20, 2016 07:37 AM EDT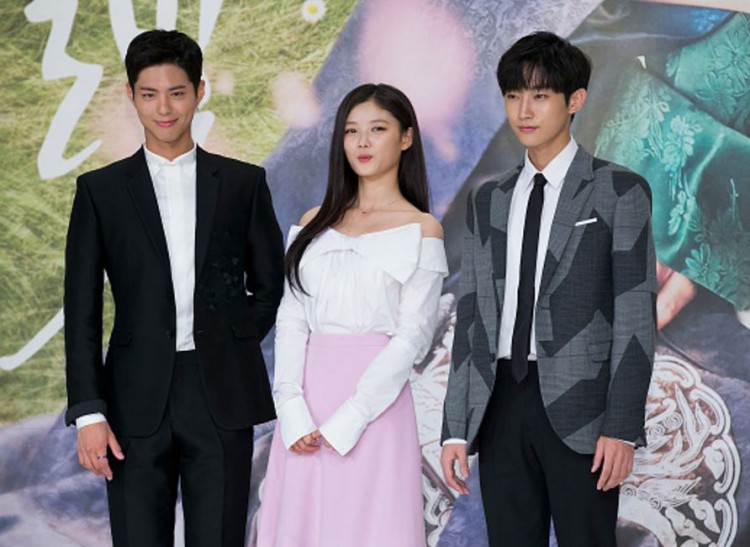 "Love in the Moonlight" actors fulfilled a promise with their fans on Wednesday as they signed hundreds of autographs for they excited supporters, Yonhap News reported.
On October 19, Park Bo Gum, Kim Yoo Jung, B1A4's Jinyoung, and Kwak Dong Yeon went to the Gyeongbok Palace in full costume, just like how they looked like in the recently-concluded Monday-Tuesday KBS drama. The Gyeongbok Palace was one of the main palaces of the Joseon Dynasty and it is also where the drama was filmed.
There were thousands of fans who awaited the said event, however, only 200 lucky fans were able to receive autographs from the actors after being selected in a contest.
The series had 18 episodes and focused on the story of Crown Prince Lee Yeong, portrayed by Park Bo Gum. He ruled the country from 1827-1830 on behalf of his ailing father and fell in love with a woman disguised as a eunuch (Kim Yoo Jung). The drama was based on the web novel with the same title.
In the final episode aired on Tuesday, the drama garnered a viewership of 22.9 percent after reaching 23.3 percent on Monday, media research company Nielsen Korea confirmed. Lead actor Park promised that the cast would sign autographs for their fans should the viewership ratings exceed 20 percent.
During the autograph signing, he said, "I am so thankful and honored that we were able to carry out the pledge. Thank you all so much for coming."
Yonhap News was able to interview some fans on the venue and most of them seemed to be fans of Park Bo Gum. Sixteen-year-old Nam Yeon Ji said, "I have liked him since he starred in 'Reply 1988.' His dimples are so cute when he smiles. I could not say anything when I was getting his autograph but I'd like him to wish me luck on my exams next week."
Thirty-nine-year-old clay artist Yoo Jin Young held up a clay of the actor said, "As I was making it, I felt happy and passionate. I abandoned everything and worked on it straight for two days."
Again, congratulations to the actors, staff, and crew of "Moonlight Drawn by Clouds!"
© 2023 Korea Portal, All rights reserved. Do not reproduce without permission.