Kim Jae Joong's Military ID Photo Trends Online!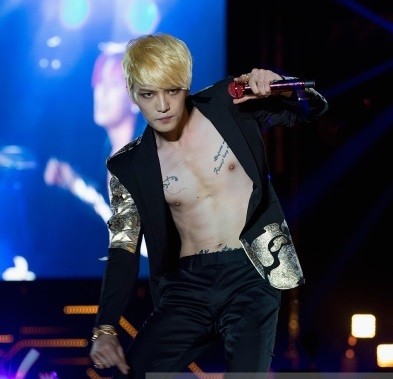 JYJ member Jaejoong has been in the military service for several months but his fans have never forgotten him.
Kim Jae Joong or popularly known as Jaejoong is an actor, singer-songwriter, designer and director in South Korea. He is a member of boy group JYJ and a previous member of TVXQ. He explored the Korean drama industry as an actor where he appeared in several dramas like "Protect the Boss", "Triangle", "Sunao ni Narenakute", "SPY", and "Dr. Jin".
Jaejoong is one of the most handsome idols in the K-pop history because of his perfect facial features and attractive visuals. He auditioned to be a trainee at SM Entertainment in 2001 where he was only 15 years old and debuted as a member of TVXQ in 2003.
The 30-year old idol has enlisted in the military service on March 31, 2015 and he even made it to the top recruit among 244 members in his batch and earned the Excellence Award during the graduation ceremony of their batch. He is currently serving at the 55th Infantry Division in Yongin where Kim will serve as an active soldier in the region for 21 months. The expected date of Jaejoong's military discharge is on December 30, 2016.
Despite of being at the military, Jaejoong's makeup, fashion, and style had definitely completed his perfect looks and fans were astonished through his military ID photo where he still looked handsome. In Jaejoong's military ID photo which is discovered by fans, Jaejoong proved his strong his visuals even there is no professional styling in his photo and he even looked make-up free.
Jaejoong's fans were happy to see that he is doing well in his military service and he even looked more handsome. There is still quite time left before Kim ends his military service this year. However, even he is in the military, fans continued to support his latest music video for the single "Love You More" which was made before his enlistment.
BELOW ARE PHOTOS OF KIM JAEJOONG IN MILITARY UNIFORM!
© 2023 Korea Portal, All rights reserved. Do not reproduce without permission.