South Korea To Finalize List For Family Reunions Despite Conflict With North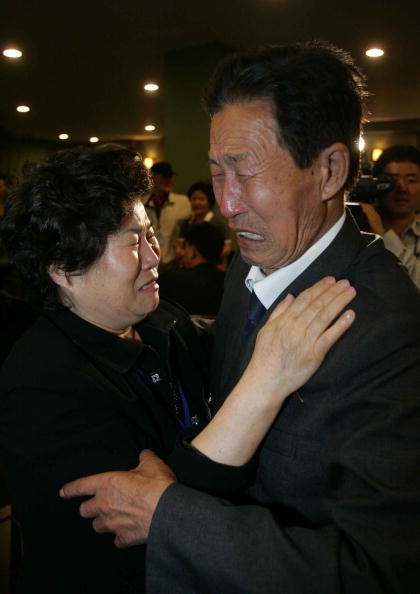 North Korea had threatened to cancel the upcoming inter-Korean family reunion event for those who had been separated by the Korean War six decades ago, according to VOA News.
Despite the recent conflict, Seoul and Pyongyang will be exchanging the final list of the 200 people that will be reunited with their families across the DMZ on Thursday, according to The Korea Times.
"Allowing only 100 participants from each side is a symbolic gesture. We want the participants to be increased greatly. Given the challenges, at least exchanges of letters and postcards, along with information on whether our relatives are still alive should be allowed," said Shim Koo-sup, who leads an association of South Koreans with families in North Korea.
The Red Crosses in both Seoul and Pyongyang have reportedly been preparing for the reunion, which is to be held from October 20 to 26 at Mount Geumgang resort in North Korea, by verifying whether the applicants' relatives remain alive on each side of the border.
The two sides will reportedly be notifying their findings on Monday in order to complete the list. The family members who are picked in South Korea will reportedly be invited to Sokcho, Gangwon Province shortly before the event so they can be given the guidelines before their visits to North Korea.
There was concern as to whether the upcoming family reunion would be canceled after North Korea reportedly made a series of threats implying that it would conduct a long-range rocket launch and nuclear test. Tensions rose after South Korean President Park Geun-hye's speech at the 70th annual session of the United Nations General Assembly asking North Korea "to allow peace on the peninsula," according to the news outlet Asia One.
"The DPRK would do well to choose reform and opening rather than additional provocations, and to endeavor to free its people from hardship," said Park during her speech.
"Pushing ahead with provocations, including its nuclear development program, will undermine the values of humanity's peace espoused by the international community and the UN."
A spokesperson for the Committee for Peaceful Reunification of Korea reportedly criticized President Park's speech.
"Reckless confrontation overtures by the South Korean authority put the hard-won reunions of separated families and inter-Korean ties on thin ice," the spokesperson was quoted as saying by North Korea's official Korean Central News Agency (KCNA).
© 2023 Korea Portal, All rights reserved. Do not reproduce without permission.