North Korea Puts Satellite Into Orbit Following Long-Range Rocket Launch; South Korea, U.S. Call For Emegency Security Meeting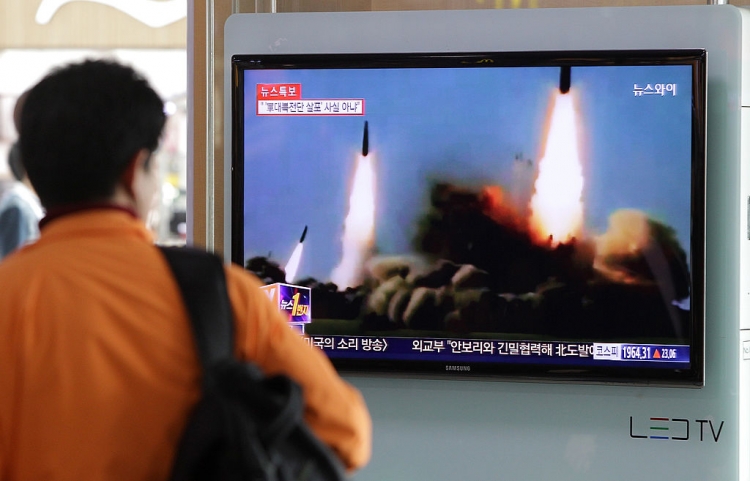 Despite warnings and resistance from South Korea, U.S. and other states North Korea continued with its planned long-range rocket launch on Sunday. The launch was conducted just a month after the highly-criticized nuclear bomb test early in January.
Reuters reported on the same day that the U.S. Strategic Command has detected a missile entering space, while South Korea's military determined that North Korea's rocket had placed a satellite into orbit. The satellite has been identified as the Kwangmyongsong-4, which was named after Kim Jong Un's late father and predecessor Kim Jong Il.
The long-range missile was launched at 9:30 a.m. By 12:30 p.m. North Korea had confirmed the success of the launch.
According to the U.S. Strategic Command two objects were recently detected in the Earth's orbit.
"Initial observations, available on the publicly-available website Space-Track.org, indicate these two objects -- NORAD catalog identification numbers 41332 and 41333 -- are at an inclination of 97.5 degrees," LTC Martin O'Donnell, spokesman for U.S. Strategic Command, told CNN.
The objects were reportedly identified as a satellite and the third stage of a rocket booster.
Shortly after the launch, South Korea president Park Geun Hye convened an emergency security meeting, during which it condemned North Korea for "ignoring the warnings of the international community in the wee hours of the morning and carried out the unacceptable act of provocation by launching the long-range missile in a follow-up to its 4th nuclear test."
Moreover, Park calls to the United Nations Security Council to prepare strong sanctions against North Korea, the Korea Herald noted. She described North Korea's missiles tests and nuclear weaponry "a substantial threat to the international community and an outright disaster for the world peace."
North Korea insists that its space program was established purely for scientific purposes, but many nations nevertheless view it as a threat.
"This is the second time in just over a month that the DPRK has chosen to conduct a major provocation, threatening not only the security of the Korean peninsula, but that of the region and the United States as well," U.S. Secretary of State John Kerry said.
U.S. officials also suggested that the same type of rocket used to launch the satellite is capable of propelling a nuclear warhead.
China, largely known as an ally to North Korea, also frowned upon the launch. Russia's Foreign Ministry called out the launch for being a "defiant disregard for international law."
Meanwhile, the United States, South Korea, Japan has requested the United Nations Security Council to conduct an emergency meeting on Sunday to discuss the launch in detail.
© 2023 Korea Portal, All rights reserved. Do not reproduce without permission.