Young People From The Hanboknoledan Group Are Adapting Traditional Styles By Wearing Comfortable Modern-Designed Hanbok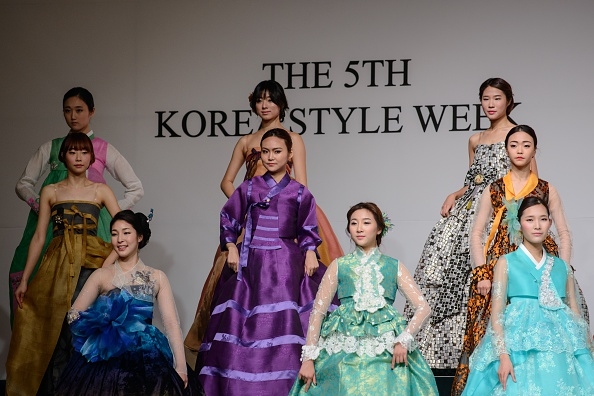 The Korean traditional dress hanbok is evolving in the modern times and attracting the younger generations, including a group of young Korean women called Hanboknoledan.
The group aims to make hanbok (with an image of being worn only on special occasions by conservative elders) popular once again in the modern-day Korea by wearing them at work, parties and even while travelling overseas, noted The Chosunilbo on Monday.
The group was created in 2011, with members including college students to the working class.
"We believe there is a limit to how far you can revive hanbok culture just by emphasizing moral responsibility to tradition," explained Hanboknoledan leader Kwon Mi Ru. "We were drawn to hanbok not because we have to wear it but because we want to. You feel more attached to it if you have a lot of fun memories wearing it."
The group gathers in events that are organized by volunteers they recruit via Facebook. They dance and create music video as a way of showcasing the traditional hanbok to the younger people.
Hanboks today are crafted to be worn more comfortably and are patterned after the modern fashion and lifestyles.
The Korea JoongAng Daily reported on Sept. 17 the Hanbok Advancement Center launched on Tuesday a special exhibit titled "Hanbok, Our Beloved," at the Blue House Sarangchae.
"Through looking at the use of different fabrics, materials and patterns, I believe visitors to the exhibition will be able to witness the flow of the cultural and social trends in hanbok for the past 70 years since Korea's liberation," said director of the Korea Craft and Design Foundation Choi Jeong Cheol. "Many people comment on hanbok, saying it is beautiful or it is too uncomfortable as everyday wear, so the Hanbok Advancement Center has been making efforts to think of ways to promote our beautiful traditional costume and bring it back into our daily lives."
The exhibit is set to run until Nov. 1 and features almost 90 hanbok dresses, which the Hanbok Advancement Center aims to "show the changes and trends in hanbok in the past 70 years since Korea's liberation."
© 2023 Korea Portal, All rights reserved. Do not reproduce without permission.