Kim Sang Woo Is The First Korean Model To Walk Burberry Show, But His Mind Is Elsewhere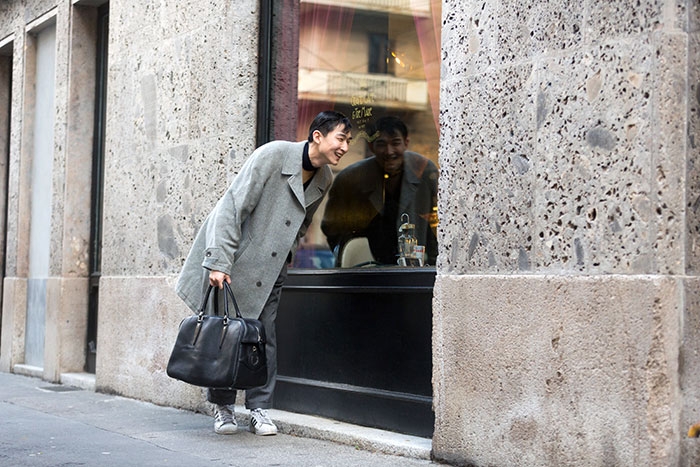 Kim Sang Woo is a 21-year-old model. He stands at 184 centimeters and was the first Korean model to walk the runway at the Burberry Prorsum show in 2014, according to The Korea Times.
Despite his successful modeling career, participating in shows for Dolce & Gabbana, Vivienne Westwood and Diesel, the Korean-British model actually has a different goal in mind.
Kim is a painter and reportedly studied fine arts at Central Saint Martins. He is reportedly continuing his course at Goldsmiths University of London.
"Don't get me wrong. Modeling is an incredible opportunity. I get to travel the world, make friends from all different nations and meet incredible people ― especially creative people within the industry who I can relate to as an artist," explained Kim during an interview with The Korea Times.
"However, the fashion industry has enabled me to further my art, for example, with Dansk magazine placing my drawings alongside an editorial. I am continually trying to push myself with my artwork and collaborating with industry people who I meet on jobs. It's a great platform for me as an artist. Last year I did an exhibition with Red Bull UK, which was a great success."
Kim is a creator by nature. During his interview with the news outlet, he explained his dedication to the forms of art he participates in, including painting, drawing and taking photos.
Sang Woo Kim From Elite Milan pic.twitter.com/3BNCJUPEyb

— ✧ · ゚ (@Iohlita) September 21, 2015
The London-based model reportedly debuted in London Fashion Week when he was 19 years old. Although he's gained immense success, even if Kim Sang Woo wasn't immersed in the fashion industry, he would still be doing what he loves — studying and creating art, according to his interview with Models.com.
For Kim, pursuing a career in art isn't based solely on success.
"Being an artist isn't a specific thing ― it is a lifestyle choice. I haven't chosen to be an artist because it's a job. I am an artist because it teaches me about life and lets me appreciate the things around me whether that is my family, nature and beauty."
"Francis Bacon once said 'Beauty moves me. Nothing else.' If I have a dream as an artist, I am thinking too far into the future. It is what it is and whatever happens will happen. As long as I can live the artist lifestyle, I guess that's the dream already fulfilled."
© 2023 Korea Portal, All rights reserved. Do not reproduce without permission.