Pope Francis Tells Washington To Use Its Power And Wealth To Serve Humanity Upon Arrival In U.S. For His Six-Day Historic Visit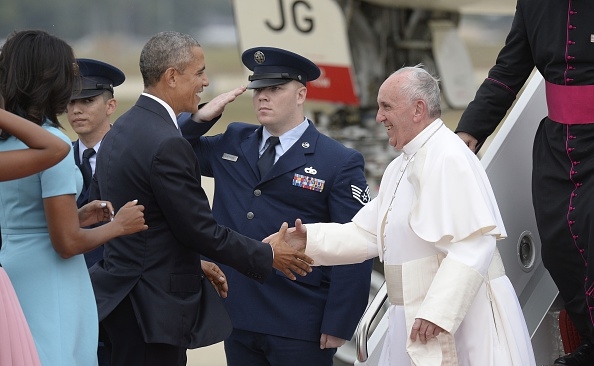 Pope Francis arrived at Joint Base Andrews on Sept. 23 to start his six-day historic visit in the most powerful country, bringing with him a message of compassion and simplicity to the United States.
The Argentinean pope landed for the first time in the US at around 4:00 P.M. during which he was greeted by the US President Barrack Obama and Vice President Joe Biden, along with the respective families. Also, thousands of people cheered in unison, "Ho ho, hey hey, welcome to the USA!"
Francis is the fourth pope to visit the US after Paul VI made the first visit in the country in October 1965.
Pope Francis told the reporters during his flight to the US that he is happy to make his first visit in the country, CNN reported Sept. 23.
The 78-year-old pope just concluded his four-day apostolic visit in Cuba. During his stay in Cuba, the pope was able to meet former Cuban President Fidel Castro after hosting a mass in Havana's Plaza de la Revolución.
In addition, the pope also said that he disregards the notion that he was an anti-capitalist leftist.
"I have never said anything that is not in the social doctrine of the church," Pope Francis told reporters, as noted by The New York Times Sept. 22. "Maybe some things sounded slightly leftish, but that would be the wrong interpretation."
He also adds that "he hopes the United States will lift its long trade embargo on the Communist-run island as a result of negotiations between the two countries." However, Pope Francis says that he will not include the matter on his address to the US Congress on Thursday.
"My desire is that they end up with a good result, that they reach an accord that satisfies both sides, an accord, certainly," he says.
On Wednesday, Pope Francis and Obama will meet again at the White House.
"I think that you can say that both President Obama and Pope Francis, have, over the course of their careers, both demonstrated a commitment to values related to social and economic justice," says White House spokesman Josh Earnest, as noted by Reuters on Sept. 23.
© 2023 Korea Portal, All rights reserved. Do not reproduce without permission.