Agreement Between South Korea And Japan On Wartime Sex Slaves Is Not Binding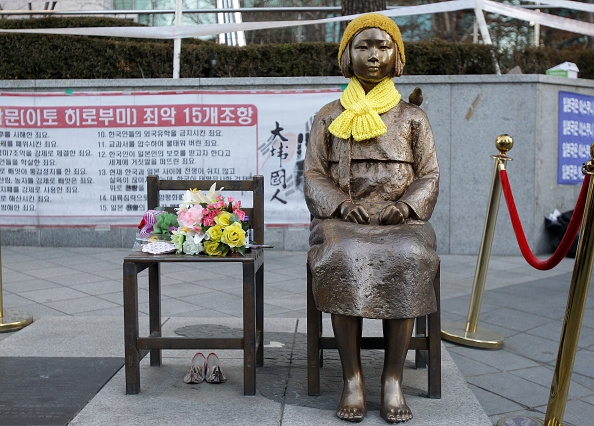 South Korea and Japan reportedly reached a deal last month to resolve the ongoing conflict regarding Japan's wartime sex slaves.
The recent deal is not a binding legal treaty as details for the agreement were not written, according to the Korean media outlet Yonhap News.
"Under international law, a treaty is defined as an agreement concluded between countries in written form and governed by international law," Song Ki-ho, a lawyer of the association said.
Japan reportedly apologized and agreed to offer 1 billion yen ($8.3 million) in reparations to the victims who were forced into sexual slavery during World War II. The fund will reportedly be created by the South Korean government.
South Korea reportedly stated that this dispute will come to an end if Japan follows through with the recent deal.
The lawyers' association reportedly requested the government disclose documents and letters exchanged between the two countries in order to determine whether or not the agreement can be viewed as an official treaty.
There is a possibility the two countries came to the conclusion in the form of an international promise, rather than a legal treaty.
"The international community holds a responsibility to protect the rights of Japan's wartime sex slaves according to international law, and South Korea has no rights to declare the final and irreversible resolution of the issue," added Song.
The dispute caused by Japan's use of wartime sex slaves was an issue raised in nearly every international meeting, according to The Washington Post.
The agreement has helped open up necessary dialogue between Japanese Prime Minister Shinzo Abe and South Korean President Park Geun-hye.
"Figuratively and politically, it created a platform for them to focus on what united them, and not divided them," said Assistant Secretary of State for East Asian and Pacific Affairs Daniel R. Russel.
© 2023 Korea Portal, All rights reserved. Do not reproduce without permission.