South Korean Music Streaming Service Genie Offers Koreans Cheaper Pricing Scheme And An Additional Compatibility Feature For Various Devices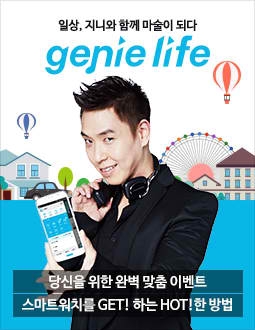 KT Music, telecommunications provider KT's affiliate, is providing a new pricing scheme for their music streaming service Genie to give Korean music lovers a better deal for their music listening experience.
Korea Times noted Wednesday that Genie's latest pricing scheme will charge users 10 won per song with a 100 won monthly base fee. Before the revisions, users of the music streaming service were asked to pay 12 won for existing streaming services each time a user plays music for more than a minute. Users will now only be charged 100 won monthly as opposed to the previous 6,000 won ($5) monthly in advance to give them unlimited streaming access.
"With the new pricing, we believe that it can bring in consumers who stayed away from paid music services due to financial burdens," said KT Music CEO Kim Sung Wook.
With the new pricing scheme, KT Music expects to draw in two to three million new Genie users by 2016.
"We estimate that there are some 20 to 30 million people who have never accessed the paid music service," noted Kim. "We are targeting them. If we lower barriers, I believe we can attract at least 10 percent of them."
According to the Korea JoongAng Daily in an article published Thursday KT Music found through a survey they conducted that 46 percent of non-users are discouraged from subscribing to the service because of the expensive monthly payment plan even though some of them do not intend to use the service as often.
"If they are allowed to pay money per song they listen to, they feel less burdened," explained Kim.
As part of the improving Genie KT Music has also added a feature called Genie Life, a curation service that enables users to switch audio between compatible devices such as smartphones, smart watches, tablets and others.
"Users increasingly want music at different places with enhanced convenience," said KT Music director Jang Joon Young. "The feature will enable users to listen to music whenever and wherever they want."
Genie will also offer a wider range of music for various scenarios and purposes, including songs that will match the user's heart rate as he or she works out.
51.2 percent of Genie's users are people in their 20s, while 21 percent account for those who are in their 30s and 19.6 percent are people in their 40s.
© 2023 Korea Portal, All rights reserved. Do not reproduce without permission.