Samsung Puts Another Smartwatch In The Wrists Of The Mainstream Market With Their New Gear S2 Smartwatches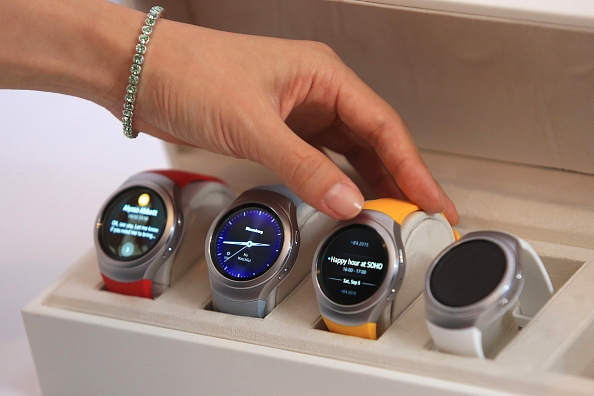 With so many smartwatches released, it might seem that tech companies will come up with another product to avoid direct competition. On the contrary, Samsung Electronics have given this sub-category another shot with their latest Gear S2.
The Korea JoongAng Daily noted on Monday Samsung's Gear S2 comes in two kinds: the standard Gear S2 and the Gear S2 Classic. The former has a 42-millimeter diameter and is available in dark gray or silver colors. It may only be used with special straps, which are Samsung-compatible.
Meanwhile, the Gear S2 Classic has a 40-millimete diameter with a glossy black finish and knurled ceramic bezel. The straps for the S2 Classics are leather and may be interchanged with any normal strap.
What's big about Samsung's latest smartwatch is its rotating bezel feature, which has a twist design to allow the users to navigate through the watch's menu with a slight clicking feature. Turning the bezel to the left will lead users to their notifications, while turning it right brings them to the apps and widgets.
Digital Trends states in its article on Tuesday that texts, chats and emails appear with a twist of the bezel, plus a Home and Back buttons are accessible on the sides of the smartwatch.
A touchscreen feature also allows for easier navigation and functionality.
The Samsung Gear S2 runs on the company's Tizen operating system with around 1,000 applications and is compatible with almost all Android mobile phones running on version 4.4 KitKat or later.
In terms of battery life, Samsung claims the Gear S2 smartwatch can last two to three days on a single charge. To charge the smartwatch, one must simply place it on a special wireless charging cradle.
"If Samsung continues to take its time, say no to short-sighted ideas, and focus, the Gear S2 could usher in its rebirth," notes Digital Trends writer Jeffrey Van Camp. "For now, it's the best reason yet to consider a smartwatch, and I'm shocked and delighted that it came from Samsung."
© 2023 Korea Portal, All rights reserved. Do not reproduce without permission.