Ian Somerhalder And Nina Dobrev Both Moving On; Former Wants Nikki Reed Pregnant!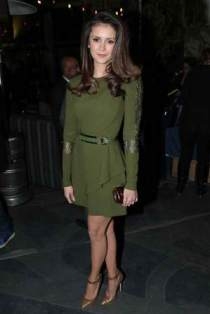 Ian Somerhalder is now reported to be desperate to make Nikki Reed pregnant this year. Meanwhile, his ex-girlfriend Nina Dobrev is currently getting serious with boyfriend Austin Stowell.
"The Vampire Diaries" actor Ian Somerhalder "desperately wants to be daddy," according to Celebrity Dirty Laundry. "It's no secret that Ian wanted to settle down with former flame Nina Dobrev and start a family. Now, the pressure is on Nikki."
The actor, who is now close to being 40, is also eyeing to be a dad as "The Vampire Diaries" is on the verge of ending after Nina Dobrev's demise in the show.
"Nikki has been trying to help Ian distance himself from the failing TVD, but there don't seem to be any real career opportunities for the actor," the entertainment website also added.
Meanwhile, Ian Somerhalder's ex-girlfriend Nina Dobrev looked like she is enjoying every single bit of time that she spends with new boyfriend Austin Stowell.
In her recent Instagram post, the actress shared a photo of them kissing while snowboarding.
The "Whiplash" actor spent the Christmas break with her 27-year-old girlfriend together with the rest of her kin, Entertainment Online said in a report.
The Bulgarian-Canadian actress also shared a collage of photos of her carrot cake that she baked for the 32-year-old hunky actor for his birthday.
"Throwing it back to the other day when I baked a Carrot Birthday Cake," Dobrev captioned the fun pics. "#HappyBirthday/Christmas #RudolfTheRedNosedAustin."
Before Somerhalder tied the knot with "Twilight" cast member Nikki Reed, he was in a relationship with Dobrev for three years.
"The Vampire Diaries'" co-stars decided to end their romance after Nina Dobrev rejected Ian Somerhalder's marriage proposals. According to reports, Nina is not yet ready to start a family and get pregnant as she is still pursuing her career.
© 2023 Korea Portal, All rights reserved. Do not reproduce without permission.