China In The Final Stage Of Building World's Largest Radio Telescope As Nation Goes Big In Space Research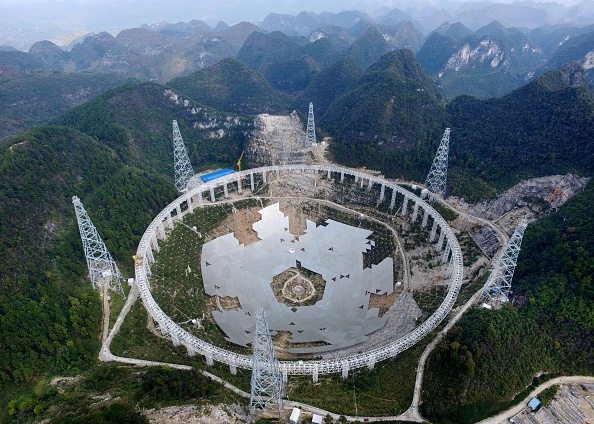 China enters the final stage of constructing the world's largest radio telescope known as the Five-hundred-meter Aperture Spherical Telescope (FAST), which will give Beijing an advantage in space research and extra-terrestrial search, reported Telegraph on Friday.
The world's largest radio telescope is about the size of 30 football pitches and is designed to examine tens of billions of light years away into space for radio signals and energy sources, such as natural hydrogen.
"A radio telescope is like a sensitive ear, listening to tell meaningful radio messages from white noise in the universe," said chief scientist of the project Nan Rendong. "It is like identifying the sound of cicadas in a thunderstorm."
According to CNN on Oct. 12, the construction of the military-led space program telescope in started in 2011 at Pintang County at Guizhou province's karst mountains and is expected to finish by September 2016. The location was chosen thanks to its remoteness, which implies less interference from radio signals. The porous basin of the telescope was also designed to drain rainwater quickly.
In July, workers started attaching 4,450 33-feet-long triangle-shaped panels on FAST's reflector.
"It will help us to search for intelligent life outside of the galaxy and explore the origins of the universe," said Wu Xiangping, director-general of the Chinese Astronomical Society.
"So far, one of the most important steps has been completed," noted Li Di, a chief scientist from the Chinese Academy of Sciences. "We will finish installing all the panels by June 2016, and strive to debug the whole system by the end of September."
Currently, the Arecibo Observatory in Puerto Rico holds the record for the world's largest radio telescope, with a diameter of 305 meters.
China is definitely going big on space research as it embarks on other projects aside from FAST. This year, it is reportedly constructing a heavy-lift rocket, arranging its second robotic mission en route to the moon and building a 60-ton space station.
© 2018 Korea Portal, All rights reserved. Do not reproduce without permission.