'Squid Game' Cast Appears On 'The Tonight Show Starring Jimmy Fallon', Talks About Show's Global Success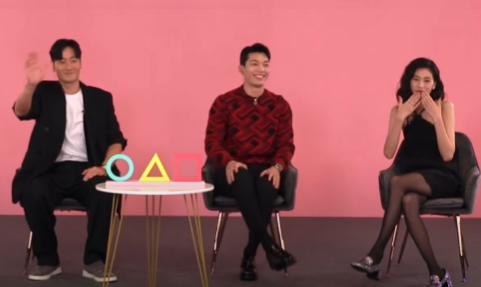 There is no denying the global success Netflix's "Squid Game" has gotten since its release back in September. The cast of the show has also found themselves being in the spotlight, after all the plot of "Squid Game" is impeccable, the acting, the set is so well put together that it is so easy to fall in love with the show.
Recently, the cast, including Lee Jung Jae, Park Hae Soo, Wi Ha Joon, and Jung Ho Yeon appeared on "The Tonight Show Starring Jimmy Fallon" where they talk about the show. The dynamic cast was not on the set of the Hollywood talk show but instead was on a set in South Korea.
Lee Jung Ja, Park Hae Soo, Wi Ha Joon, and Jung Ho Yeon looked very dashing during the interview, very opposite to how they looked all throughout the games in "Squid Game." Jimmy Fallon was very joyful in welcoming them and asked them some of the most asked questions.
During "The Tonight Show," Lee Jung Jae, the lead in "Squid Game" opens up their segment by explaining to Fallon and to the audience the plot of "Squid Game." He explained that the premise of the show is bringing people from all walks of life that are undergoing their own battles and pains and pitting them against the other for a massive cash price.
Fallon replied by saying that the storyline of the show is shocking yet beautiful in its own way, then adding the fact that it is now the number 1 show in almost 90 countries. This in turn shocked "Squid Game" cast member Park Hae Soo.
Wi Ha Joon on the one hand talked about what makes "Squid Game" unique and stand out from other TV series. He shared that the uniqueness comes from the fact that the show takes Korean children's games and turns them into this twisted game of survival.
The full interview is available to watch on YouTube, or you can click on the videos below to watch it.
© 2023 Korea Portal, All rights reserved. Do not reproduce without permission.