BTS And Chris Martin Perform 'My Universe' On Global Citizen Stage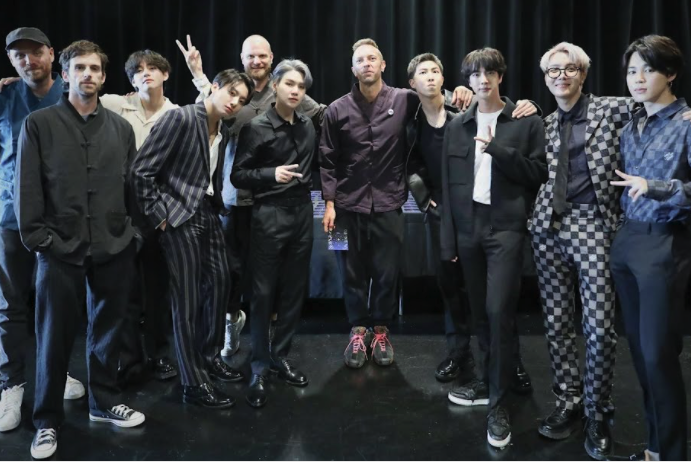 Recently, the Global Citizen concert happened in New York City, numerous artists from all around the world attended the event to share music and hope. One of the standouts and most memorable performances was by Coldplay and BTS. The two groups, which worked on a single together finally performed the song on the Global Citizen stage.
Although BTS did not share the stage with Coldplay physically, during the performance of the song, the BTS boys were shown on a large LED screen. Coldplay frontman Chris Martin had comments about the boys every time one of them was flashed on the LED screen.
When Jin was shown on the screen, Chris Martin could not help himself but praise him. Jin, who is known for his good looks and talent looked very handsome in the photo shown of him. Martin then commented on how Jin was Worldwide Handsome, meaning that he was a very good-looking man no matter where in the world.
The song BTS and Coldplay worked on together in the past months has been one of the most awaited releases. A teaser for 'My Universe' was dropped over a week ago.
Now, a video showing the making of the song Chris Martin had only nothing but good to say about the group.
According to Martin, the Bangtan Boys seemed to work cohesively despite having a very individualistic style. He also further revealed that he envies the group because they have a lot of creative freedom when it comes to song-making and that they are able to work with a variety of producers and writers, not only in Korea but those across the pond as well.
During the recording of 'My Universe,' Martin also listened to BTS's track 'Butter,' Martin expressed his surprise and love for the song, commenting that there are many BTS songs he loves.
A music video for the song is yet to be released, if there is, we are hoping that it will be very soon.
© 2023 Korea Portal, All rights reserved. Do not reproduce without permission.