Is There A Difference Between North And South Korean Kimchi?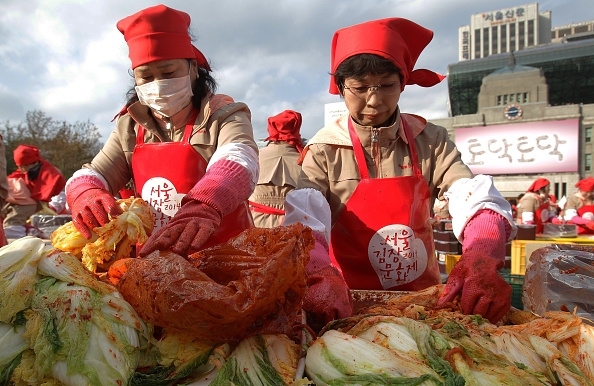 Kimchi is a staple in both North and South Korea.
Although the pickled cabbage dish is widely and quite frequently enjoyed in the two countries, it is important to note that the way kimchi is made in North and South Korea is quite different.
North Korean kimchi tends to be less red and less spicy. There are fewer or no chillies, unlike the kimchi that originates from South Korea.
Even though the kimchi from both Koreas have been applauded, North Korea's dish was the one that was added to Unesco's prestigious list of the world's "intangible cultural heritage," according to The Guardian.
"Koreans share experience among themselves to make delicious kimchi according to season, while helping each other with raw materials and in preparation," Unesco said as it confirmed the inclusion of the Democratic Republic of Korea's "red kimchi" on a list of nominations to be rubberstamped at a meeting next week in Namibia.
The Intangible Cultural Heritage status is awarded to practices and arts that Unesco feels are important to world heritage and culture diversity, according to BBC News. The organization reportedly picks foods that are deserving of lasting protection.
Several other cultural traditions have also been approved for the title, including the crafting of Portuguese cow bells, and bagpipe-playing in Slovakia.
The honor comes at prime kimchi-making time in Korea.
"Koreans traditionally get together in late November and early December to make enough kimchi to last through the peninsula's long hard winter. The tradition contributes to social unity since it is practiced in the whole society involving neighborhoods, relatives, villages and organizations," explained Unesco.
Within the past decade, kimchi has found itself space outside of Korea. Many have recognized the health benefits of the dish, incorporating the pickled cabbage into hot dogs and burritos.
The dish even traveled into space in 2008 with South Korean astronaut Ko San.
© 2023 Korea Portal, All rights reserved. Do not reproduce without permission.