Ben Affleck Rescues Jennifer Lopez From Rampaging Fan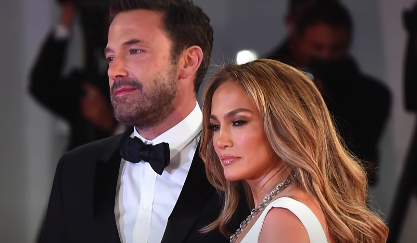 Ben Affleck protected his girlfriend Jennifer Lopez after an overzealous fan approached the Latin pop star for a photo. The meeting between the fan and the couple was captured in a video and showed that the 'Argo' star came between J. Lo and the fan.
Affleck and Lopez recently attended the Venice Film Festival where the two made their first debut as a couple on the red carpet. On the captured images one can see Affleck fending off the maskless fan away from J. Lo and him. The fan seemed too close to the couple's liking, and Affleck's instinct came out.
Ben Affleck gently but firmly pushed the man back with his hands, which he kept extended to try and let the fan know he was in their personal space. Jenifer Lopez, on the other hand, made sure to take a step back as Affleck handled the situation. The couple's bodyguard immediately diffused the situation once they were able to get near the couple.
The situation, fortunately, did not become more intense and was immediately halted. According to witnesses Ben Affleck immediately took Jennifer Lopez's wrist and escorted her as they distance themselves from any more fans.
Ben Affleck and Jennifer Lopez were both in Venice for work and leisure, the meeting between them and the fan capped off a very exciting time for Ben in Venice. The star and director attended the red carpet with Jennifer Lopez for the premiere of his latest film "The Last Duel", which is a historical drama. The movie was both written by Affleck and his good friend Matt Damon.
The appearance of the couple on the Venice Film Festival red carpet marks their first red carpet appearance. The two were engaged for two years back in 2001 but split in 2004, Ben went on to marry actress Jennifer Garner, with whom he shares three children, while Jennifer Lopez went on to marry Marc Anthony, sharing twins together.
© 2021 Korea Portal, All rights reserved. Do not reproduce without permission.