Care For Some Kimchi Grilled Cheese? Here's How You Make Some At Home!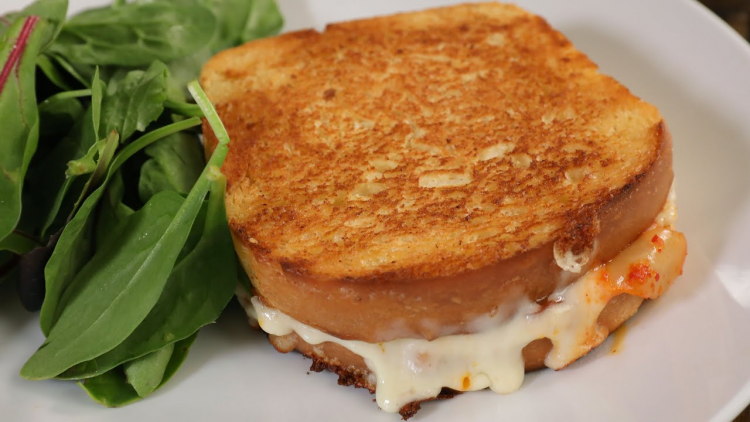 Koreans are all about Kimchi. In fact, it's always part of a meal or a side dish in every Korean dish and restaurant you go to. This week, we have stumbled upon a different way to enjoy some grilled cheese. How is Kimchi Grilled Cheese sound for you?
Some of you will be thinking that cheese and kimchi could be a weird combination. However, if placed together with bread for Grill Cheese, you would definitely say that it is delicious and the spice is not overpowering, and the cheese balances this off.
We absolutely love this recipe as the ingredients can be purchased easily in your local grocery store. So here's how you make some tasty Kimchi Grilled Cheese!
For one serving of Kimchi Grilled Cheese, you need two slices of bread, a ½ cup of shredded mozzarella cheese, ¼ cup of fermented chopped kimchi, and one tablespoon of unsalted butter. If you're preparing Kimchi Grilled Cheese for more than one person, you may adjust the size of the ingredients.
First is you must heat up the large skillet over medium heat. Make sure it is not too hot. Place two slices of bread side by side on the pan, but make sure to leave an area where you can cook your kimchi. Mix the kimchi well on the pan with some butter.
Turn one slice of bread over and add in the mozzarella cheese. We understand that some of you would love to have more cheese on your serving, so you can in more to your liking. Now place the kimchi on top, and you would see that it is melting the mozzarella perfectly. Using a spatula, press down the bread gently and let it cook for two to three minutes. Then turn it over to toast the other side.
Once all of the sides are golden brown, serve it on a plate and pair it off with a refreshing drink. Enjoy your Kimchi Grilled Cheese!
© 2023 Korea Portal, All rights reserved. Do not reproduce without permission.