Cooking, Swimming, And More: Cha Eun-woo Unveils BTS Of Louis Vuitton Pictorial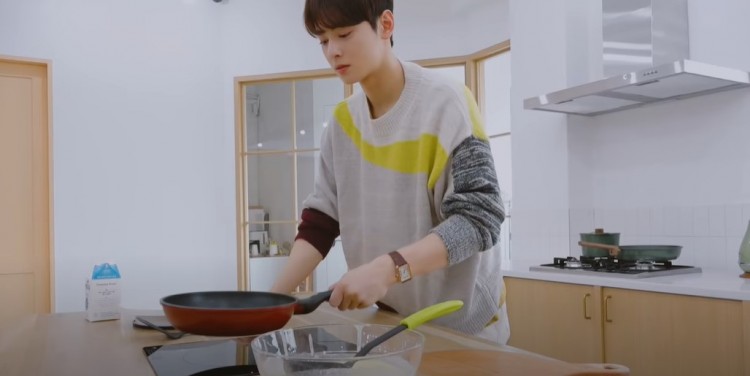 One of the Facebook pages dedicated to South Korean actor, singer, and model Cha Eun-woo, Cha Eun Woo 차은우 Daily, has released the behind-the-scenes clip of his photoshoot with luxury fashion house Louis Vuitton.
In the BTS video, the Astro singer is seen showing off his cooking skills, dipping in the swimming pool, and enticing fans wearing the collection from Louis Vuitton. It is seen that he cooked noodles.
French fashion label Louis Vuitton had sold luxury goods since its founding in the 19th century. They offer luxury leather goods, ready-to-wear, shoes, jewelry, watches, trunks, accessories, sunglasses, and so much more.
This is not the first time Cha Eun-woo is doing a collaboration with Louis Vuitton.
Last October 30th, 2019, Louis Vuitton conducted a star-studded event at their newly-built then-store in Seoul's Chungdam. Gracing the event were celebrities Cha Eun-woo, "Train To Busan" actor Gong Yoo, Korea UNHCR ambassador Jung Woo-sung, "The Amityville Horror" star Chloë Grace Moretz, Berlin-based South Korean DJ Peggy Gou, and so much more.
Esquire Korea also previously updated a video of Cha Eun-woo when he was in a photoshoot with Louis Vuitton. Among the stuff he shared was that his favorite color is silver and that his stage name is actually "Eun," translating to "silver."
The actor also shared his favorite K-Drama project would be that which is related to families and humanity. He told the magazine he likes watching the 2016 top-rating crime series "Signal," based on true stories.
He also shared what his preferred scent is, which is fruity perfume. This "True Beauty" actor also said he likes wearing comfortable shoe pairs, with the back part pushed down, or the "low top style."
Among his songs are "Rainbow Falling," "Together," "Please Remember," "Love So Fine," and more. He has portrayed roles in "My Brilliant Life," "Gangnam Beauty," "My Romantic Some Recipe," and more.
© 2023 Korea Portal, All rights reserved. Do not reproduce without permission.