Australian Floods Force Thousands To Evacuate As Deluge Continuously Devastate New South Wales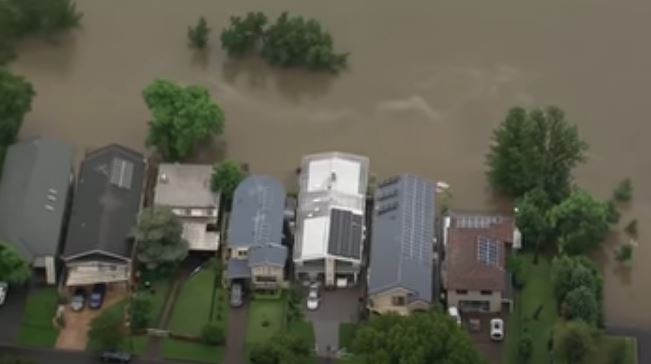 Torrential rains have caused considerable damage to New South Wales, Australia. A couple of day's heavy rainfall overflowed rivers and dams around Sydney and in south-east Queensland.
On Tuesday, Australia's Bureau of Meteorology said that the region would experience prolonged rainfalls, strong winds, dangerous surf, and unusually high tides. Moreover, about 10 million people throughout the continent, except Western Australia, were placed under a weather warning.
Overflowing rivers submerge roads and bridges, making them difficult to cross bridges making it difficult for vehicles and people to cross.
People who live in low-lying areas are ordered to evacuate. They must find shelter with friends, family, or evacuation centers situated in areas that can't be affected by floods. The order from the government was a preparation to evacuate.
Both the Hawkesbury and Nepean rivers reached greater levels on Monday compared to the 1961 flood that also wreaked havoc in the region. These rivers border Sydney's north and west.
Sydney's primary water source, the Warragamba Dam, starts to spill for the first time in 5 years. The dam spills 500 gigaliters on Sunday before receding to 300 gigaliters on Monday.
Queensland also received serious weather warnings. The region will also experience heavy rains, which could bring flash floods to the state's western and southern parts. Places engulfed by wildfires in 2019 and last year are now enveloped by floods.
NSW Premier Gladys Berejiklian said, "Communities who were battered by the bushfires are now being battered by the floods and a deep drought prior to that. I don't know anytime in our state's history where we've had these extreme weather conditions in such quick succession in the middle of a pandemic."
The massive rainfalls are caused by two colliding weather conditions. These are the slow-moving coastal trough and another system that came from the west. The latter pumped down tropical moisture into the area and was being agitated by strong easterly winds. Over the next few days, more heavy rainfalls are expected that could worsen the flooding in several low-lying communities.
© 2022 Korea Portal, All rights reserved. Do not reproduce without permission.