TWICE's Nayeon's Infamous Stalker Threatens The Singer Again, Fans Trend #ProtectNayeon On Twitter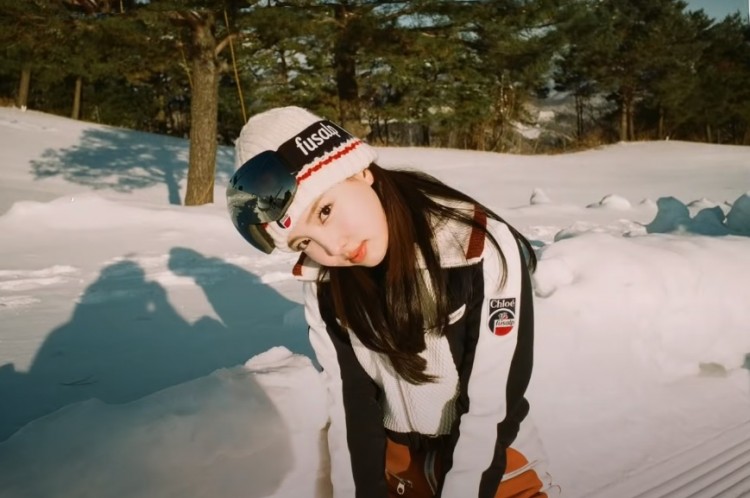 It looks like the infamous foreign stalker of TWICE's Nayeon, Josh, hasn't ended his obsession with the K-Pop artist urging fans of the singer to trend the #ProtectNayeon from him and the haters who want to harm her.
Recently, Josh appeared in a call interview with the YouTube channel RBGTalk, which was uploaded last Jan. 16, 2021. The host asked him when did he start loving Nayeon, the restraining order, what if Nayeon rejected Josh, and what if the former dated someone else. They also talked aabout Josh's personal life, mental treatment, and other things about the controversy.
During the interview, listeners can hear Josh getting hysterical when the host asked him in a hypothetical setting, what if Nayeon was revealed to be dating someone else.
"Well, obviously fake news," he continued, "because before she starts dating someone else, she will obviously talk to me about it first... the chance of that happening is way too low... unlikely to happen..."
Concerned fans posted some alleged screenshots from private conversations with Josh, and there was a reply that said if Nayeon dates secretly behind his back, he would one hundred percent kill her.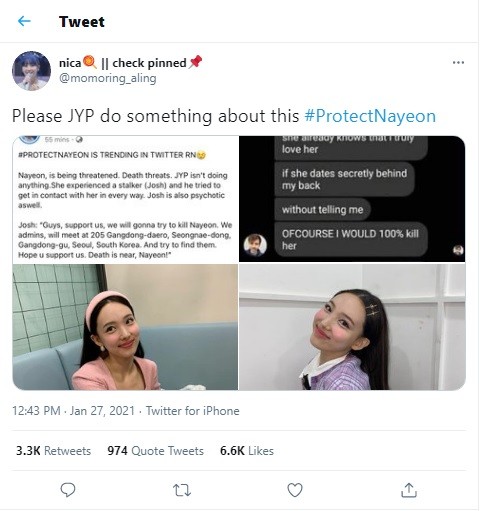 The recent interview and screenshots alarmed the people who care about Nayeon, so an open letter was addressed to JYP Entertainment and TWICE related departments (or groups).
Below is the full statement of the open letter:
To: JYP Entertainment and Twice related departments

We are fans of Twice and Nayeon.

We sincerely hope for the following matters, and we are posting a request.

We have sent multiple emails from NAYEON GLOBAL UNION, a global fan association, and other Nayeon's fanbase about Nayeon's stalkers, hatred, malicious tweets, and serious problems with content. It is not clear whether or not you will receive it, but please pay attention to the safety and honor of the artist.

Nayeon's stalker actively exposed herself with the help of a YouTuber ( https://youtu.be/is8ndgRcgF4 ) and sent a murder threat to Nayeon. He's also re-spread on social platforms that he will return to Korea in a few months, and we don't want the same menacing event that happened again on January 1st, 2020 on a plane back in Korea. Nayeon was so easily exposed to these threats that her life was endangered.

As a fan of Nayeon and Twice, I sincerely ask JYPE to take this matter more seriously and take all precautions and measures to protect Nayeon and ensure ultimate safety.

In addition to this stalker issue, we have reported by email on social media platforms, especially Twitter @NayeonReport, hoping that you will review detailed information about Nayeon's persistent hatred and malicious tweets and content on Twitter.

We sincerely hope that JYPE will take legal further action against these accounts that hide their identities behind account names, continue to send hate tweets through social media platforms and seriously defame Twice & Nayeon and affect their safety. As requested.

We will take these two things seriously, gather the support of all our fans, and unite to protect Nayeon and Twice in a more proactive way. We sincerely hope that you will formally respond to your request as soon as possible and will continue to the next step until a response is received. Thank you so much for reading through.

#ProtectNayeon

#RespectNayeon

Sincerely,



© 2023 Korea Portal, All rights reserved. Do not reproduce without permission.