#8YearswithSuga: Fans Look Back On His Career As BTS' Suga & Agust D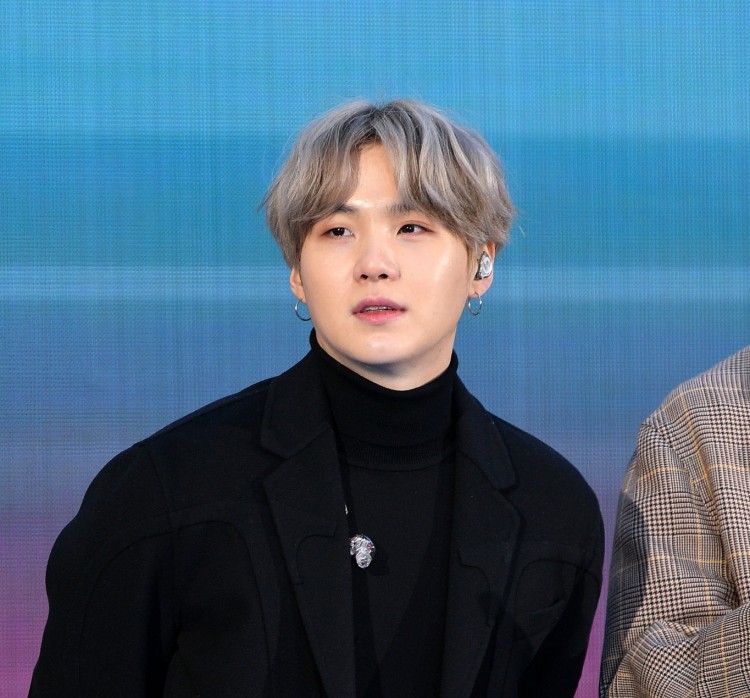 Eight years ago, on this very day, Big Hit announced Min Yoongi, or popularly known as Suga, as an official Bangtan Sonyeondan (BTS) member. The ARMY and solo fans of Suga celebrated this day by trending his real name Min Yoongi, #8YearswithSuga and #윤기가_우리의음악이된지_8년.
The lead rapper of BTS trained for three years before landing a spot on the famous K-Pop boy group. He came from a low-income family back in Daegu Town. He was an underground rapper and producer before, where he produced tracks for well-known artists like Reflow. He then auditioned for Big Hit Entertainment through "Hit It," the company's rap competition at the time. Suga didn't win, but he landed second place, which was enough to sign him as both producer and trainee.
Fans celebrate this man who was often described as quiet, relaxed, and meticulous by not only his group members but the people he worked with too.
One fan tweeted a thank you for Suga's music and inspiring his fans through it. The tweet also expressed how proud the fans were for his success and promised to support him until the very end.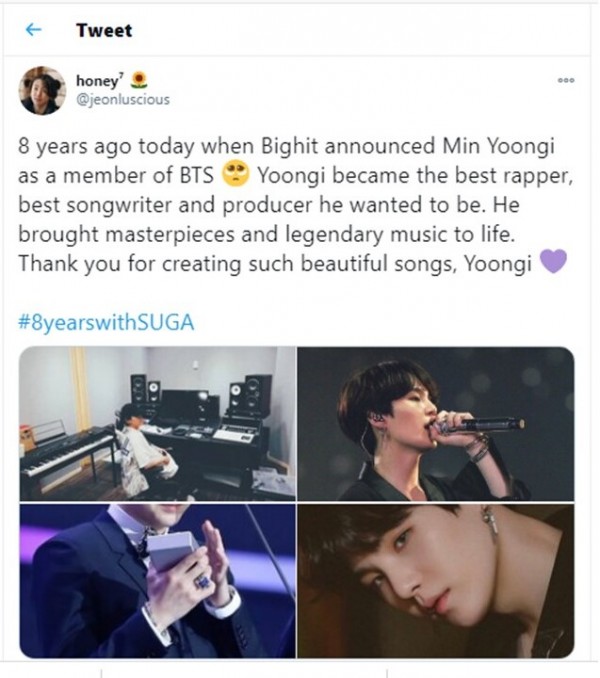 Meanwhile, another fan thanked Min Yoongi or Suga for choosing to be part of BTS and joining Big Hit Entertainment. In 2013, Suga revealed before in their former show called "Rookie King Channel BTS" that the rapper initially only wanted to produce music. Still, Bang Si Hyuk, the founder, and co-CEO of Big Hit Entertainment, "tricked him" into becoming a K-Pop idol.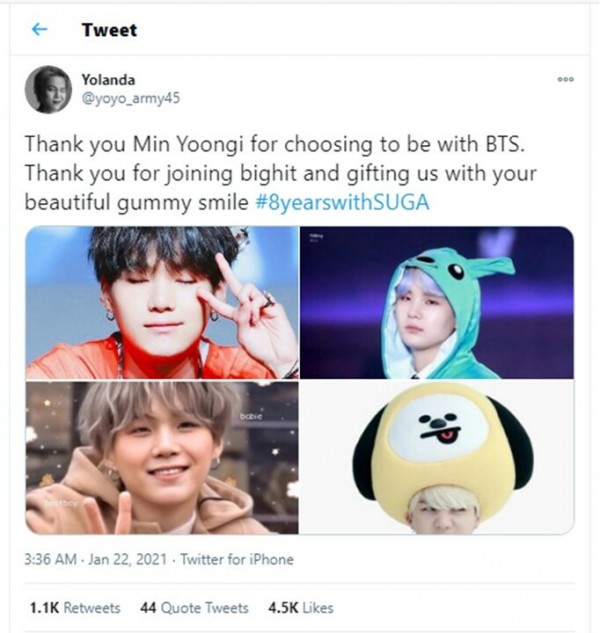 In an interview for BTS's Japanese fan club, he also said that he wanted to be a composer and not a rapper. Not to mention, he thought that he would never have to dance. BTS' Suga also goes by Agust D, his stage name when he works on his solo mixtapes and not releasing music with BTS. A fun fact for his fans too.
Currently, he is still recovering after he underwent shoulder surgery last Nov. 3, 2020.
© 2023 Korea Portal, All rights reserved. Do not reproduce without permission.