Netflix's 'Space Sweepers' takes promotion to another level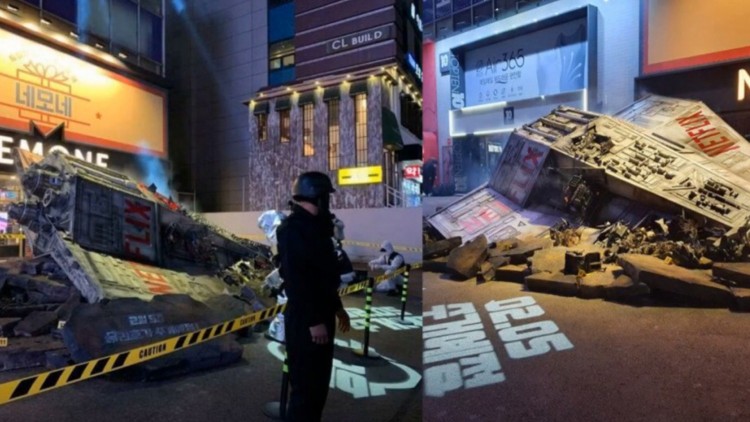 Upon the premiere of Netflix's "Space Sweepers," a mysterious spaceship crash site has appeared in the streets of Gangnam, Seoul.
In promoting Netflix's "Space Sweepers," a big lifelike attraction was placed near Gangnam station. It instantly became a popular topic via SNS and other online communities.
The erected site was so realistic that a caution tape was even placed in the area. There were also men seen wearing protective suits and military gear who stood guard of the site.
On the site, a crowd of passersby, unaware of what was really happening, was seen taking photos and videos of everything. But as they inspected closely, the onlookers found Netflix's logo and a sign that read, "Spaceship 'Victory' will be collected on February 5."
The massive and realistic spaceship crash installation was a surprising promotional gimmick to hype the sci-fi film's upcoming premiere on February 5, 2021. Many fans will still be able to enjoy the attraction until that date.
The movie stars Song Joong-ki, who was recently reported to have donated 100 million KRW to Hope Bridge National Disaster Relief Association to help in the fight against COVID-19. His upcoming Saturday drama "Vincenzo," directed by Kim Hee-won, is slated to be broadcasted beginning February after the "Queen Iron Man." "Vincenzo" is one of the most highly anticipated dramas in 2021 that is about an Italian mafia lawyer who came to Korea. Jeon Yeo-bin, Ok Taek-yeon, and Yoo Jae-myeong join Song Joong-ki in this drama. You do not want to miss it.
The upcoming sci-fi film "Space Sweepers" is about a crew of rogue space dwellers (there is also a cute robot) picking up scraps and junks for a living. It is set in outer space in the year 2092, and the cast also includes Kim Tae-ri, Jin Seon-kyu, Yoo Hai-jin, and more. Check out the "Space Sweepers" Trailer on YouTube.
© 2021 Korea Portal, All rights reserved. Do not reproduce without permission.