'Arrow' Actress Emily Bett Rickards Gets Very Emotional On Her Last Day Of Filming As Felicity + Showrunner Addresses Spinoff Rumor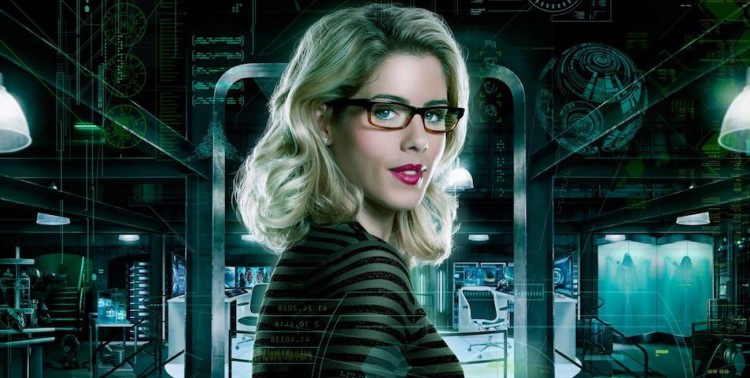 Emily Bett Rickards has officially bid goodbye to the character that fans have loved for seven years: Team Arrow's Felicity Smoak, a.k.a. Overwatch. The actress has done filming the final scenes of Felicity and it was a very emotional day.
Since her surprise announcement last month that she is leaving Arrow ahead of its eighth and final season, Rickards has been sharing some throwback photos of her in the Arrow set, a Queen family portrait, and some IG posts that favored most by her fans. Rickards also shared a series of photos and videos on her Instagram story and she titled it "The End of An Arrow."
Rickards' co-star Rick Gonzalez (Rene Ramirez/Wild Dog) also shared a video from the set where Rickards sheds tears in between filming of her final scenes. Additionally, Stephen Amell's (Oliver Queen/Green Arrow) daughter Mavi also sang an emotional song to mark Rickards last day on Arrow. Mavi sang a portion of "A Million Dreams" from The Greatest Showman movie while her dad, Rickards, and everyone on the set is getting emotional.
Based on Amell and Gonzalez's videos, there might be some time jump in the finale episode of Felicity in the series. In Amell's clip, the cast and crew are seen in a cabin in the woods. It could mean that the pregnant Felicity would have been forced to went hiding to protect their unborn child.
On the other hand, Felicity and Rene looked aged in Ramirez's video. Some fine lines are visible on Felicity's face while Rene has wrinkles and grey hair.
"It's been a ride. We're old and tired!" Rickards said in the clip while wiping away her tears.
Arrow bosses and some cast members also took to Twitter to express their gratitude working with Rickards and wish her the best of her career moving forward. Showrunner Beth Schwartz said they still can't believe that it is Rickards's last episode.
Meanwhile, Schwartz hasn't completely ruled out the idea of an Arrow spinoff. After Stephen Amell revealed early last month that Arrow is coming to an end, fans began to speculate that The CW could be working on a spinoff.
"It was definitely meant to grow the world that we had already built and to see the next generation of what Oliver and Felicity and our present-day team have worked so hard for, and sort of see what happens in the future. We love those characters and would love to see them go on in some capacity after the show's over," she told TV Line.
Arrow Season 7 airs every Mondays at 9 p.m. ET/PT on The CW. It is currently in a brief hiatus and will return with "Lost Canary" episode on April 15.
The DC superhero series will premiere its eighth and final season in fall. Arrow Season 8 will have shortened run with only 10 episodes.
It's @EmilyBett's last day. What a ride! #Arrow #BlondieAndRene pic.twitter.com/LwzaZ6sVVQ — Rick Gonzalez (@officialrickg) April 9, 2019
Our kiddo wanted to sing @emilybett a song on her last day. pic.twitter.com/DxlkShd2H6 — Stephen Amell (@StephenAmell) April 10, 2019
© 2023 Korea Portal, All rights reserved. Do not reproduce without permission.