BTS x VT Cosmetics: Behind-The-Scene Filming Clips & Individual Member Videos Dropped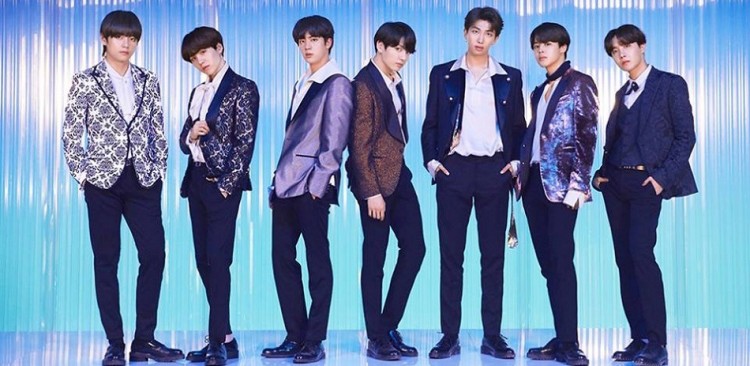 A year after their first collaboration, BTS and VT Cosmetics have dropped their brand new product line. The cosmetics company has shared some individual videos of the members and the behind-the-scenes clip of BTS while filming their new CF.
The individual videos of BTS leader RM and oldest member Jin are shared by VT Cosmetics on its official social media accounts as well of J-Hope and Suga's clips filming for the CF. The individual videos of the rest of the Bangtan Boys are also expected to drop soon.
VT Cosmetics also shared a behind-the-scenes video of the CF filming featuring all members of BTS. In the clip, the boys exude a cool vibe while clad in fancy wardrobe and filming against dramatic backgrounds. The new CF dropped back in August and it has "time to shine" theme.
The new VT X BTS Collection includes different shades of lipstick, lip gloss, eye palette, foundation, mascara, primer, and more. Apparently, the 2018 VT x BTS line was launched exclusively at the National Nature Collection store in Korea on October 6. It is also now available on VT Cosmetics website. So far, there is no information on when it will be available in stores in the U.S.
The VT Cosmetics' first collaboration with BTS was the Collagen Pact line that has two color-correcting cushion compacts. The product line was launched in October 2017.
Meanwhile, BTS just concluded the US leg of their Love Yourself concert tour in a one-night-only performance at the Citi Field stadium in New York over the weekend. The "IDOL" hitmakers are heading next to Europe for concert stops in the U.K., the Netherlands, Germany, and in France.
There have been reports that Citi Field has requested another day for BTS to perform at the home to the New York Mets following the success of their concert on October 6 and the high demand from fans to see the K-pop idols again. Understandably, the request was declined due to the band's scheduled tour dates in Europe starting on October 9.
For now, BTS's Army in the U.S. could only hope that the boys will come back in America next year as Jin, Suga, J-Hope, RM, Jimin, V, and Jungkook have packed schedule until February 2019. Moreover, Big Hit Entertainment has already confirmed that they will be announcing more tour dates so BTS would meet their fans in as many countries as possible.
© 2019 Korea Portal, All rights reserved. Do not reproduce without permission.