'What's Wrong With Secretary Kim' To Celebrate High Viewership Ratings With A Lavish Vacation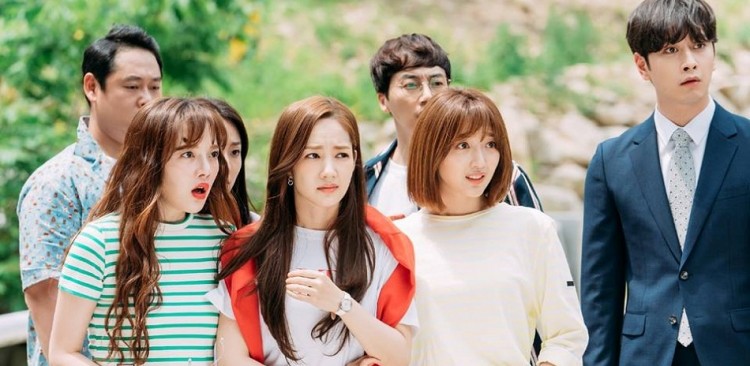 A luxurious vacation is just fitting for the cast and crew of What's Wrong With Secretary Kim because of the show's success. The entire team of tvN's romantic comedy series is slated to have their well-deserved treat as soon as the finale airs.
Reports stated that sources from the network have confirmed that all cast members and crew of the show will be rewarded with a vacation next month. The organizers of the planned vacation are reportedly considering a five-day stay in Phuket or other top destinations in Southeast Asia.
However, the date of the trip is still under consideration. The schedule of the cast members has to be arranged to make sure that all could join the fun. What's Wrong With Secretary Kim stars Park Seo Joon (Lee Young Joon), Park Min Young (Kim Mi So), Lee Tae Hwan (Lee Sung Yeon/Morpheus), and more.
Typically, Korean TV shows film the entire series before the premiere. It is possible that some of the cast members and crew are currently tied up with new projects. Park Seo Joon, for instance, is about to star in Jason Kim's upcoming movie, Saja. The film is scheduled to premiere next year, and reports indicate that it will start production anytime soon.
The K-drama is currently leading the viewership ratings in its timeslot. Additionally, it has been named as the most buzzworthy drama for five consecutive weeks. Two of its stars are also on top of the most-buzzworthy actors' list.
Moreover, the show also topped the brand reputation ranking of the Korean Business Research for K-dramas this month. What's Wrong with Secretary Kim led the rankings with a brand reputation index of almost 14 million. KBS 2TV's Marry Me Now came in second with 11.8 million and Mysterious Personal Shopper at third place with 7.1 million.
The rankings were determined by analyzing the data that were collected from June 6 to July 7. This includes consumer participation, communication, media coverage, community awareness, and viewership indexes of popular K-dramas.
Meanwhile, tvN released new images for the upcoming What's Wrong With Secretary Kim Episode 11. In one of the photos, Kim Mi So is seen lying unconscious in a hospital bed. Lee Young Joon is at her bedside, tightly holding her hand while looking dreadful of what happened to Mi So.
The drama's production team teased that fans shouldn't miss the next episode of the K-drama. Apparently, when Mi So wakes up, she will finally find out that secret that Young Joon has been hiding from her.
"The emotions will be maximized as the two intertwined by a deep connection in the past meet for the first time after the reveal of their identities," Soompi quoted the production team as saying. What's Wrong With Secretary Kim airs on Wednesdays and Thursdays at 9:30 p.m KST.
© 2019 Korea Portal, All rights reserved. Do not reproduce without permission.