'What's Wrong With Secretary Kim' Cast Share Hilarious BTS Video; Watch Park Min Young Prank Park Seo Joon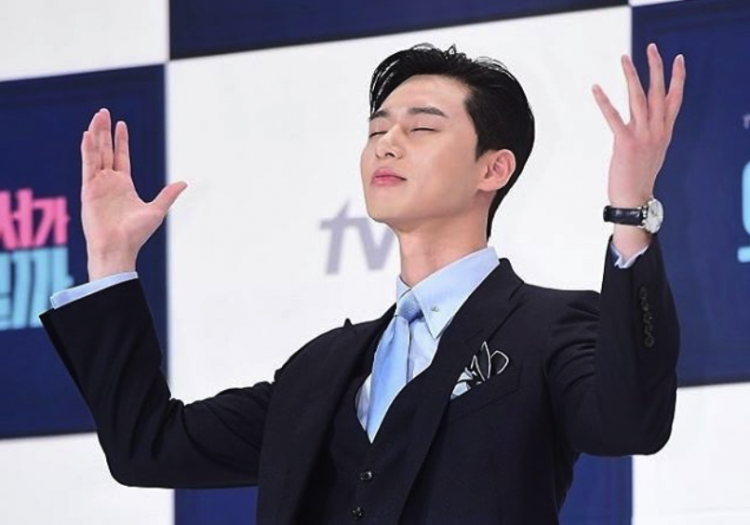 The comedic chops of the actors of tvN'S romantic comedy What's Wrong with Secretary Kim were once again highlighted, this time, in a behind-the-scenes video. The cast of the highly-rated show is seen laughing non-stop during filming, giving us a glimpse of what it's like shooting scenes for the TV series.
The beginning of the behind-the-scenes video shows actors Park Min Young and Kang Ki Young creeping up on Park Seo Joon who is pretending to be asleep. Kang Ki Young then whispers, "Mr. Vice President, do you love your mom or dad more?" The three actors couldn't hold back their laughter anymore and start laughing, and even the crew can be heard laughing as well.
'What's Wrong With Secretary Kim' Cast Show Their Natural Sense of Humor
In the next scene, Park Seo Joon and Park Min Young are seen preparing to shoot a scene where he is about to give her a surprise back hug after waking up from a short nap. After filming said scene, Park Min Young asks if the whole thing looked force, to which the director said it didn't. Park Seo Joon then proceeds to tell everybody that Park Min Young was definitely carried away by his embrace, causing everybody to burst into laughter.
Adding to the list of bloopers is Park Seo Joon's attempts to make Park Min Young call him "oppa." The actress goes with it and plays the part perfectly despite the whole awkwardness. When the actress' character's sisters, played by Heo Sun Mi and Baek Eun Hye, call her name, the actress involuntary answers "What?" which wasn't on the script at all, causing another round of laughter.
All in a Days' Work
While the actors have fun on set, the video also shows how they can be very serious especially when it comes to intense scenes. In one kissing scene, the lead characters are shown monitoring their kiss in the video. Watch the What's Wrong with Secretary Kim BTS clip below.
© 2019 Korea Portal, All rights reserved. Do not reproduce without permission.