'General Hospital' Spoilers for July 9-13, 2018: Michael and Chase Carry Out Their Twisted Plan; Nellie Gets Shocking News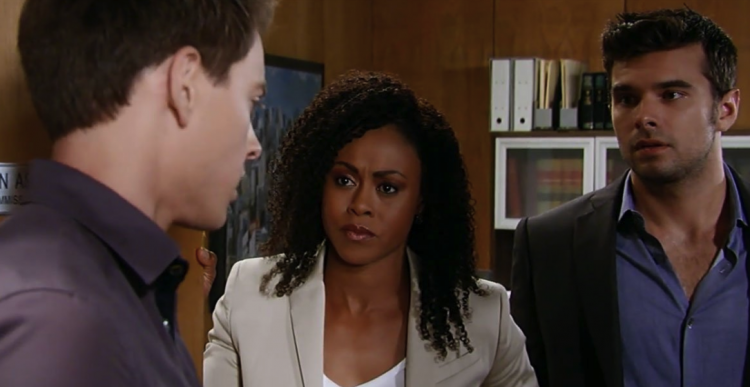 General Hospital spoilers for July 9 to 13 reveal Michael (Chad Duell) and Chase (Josh Swickard) about to deliver a twisted scheme. Apparently, Nelle (Chloe Lanier) only responds to that type of strategy alone. But will fighting fire with fire finally bring Michael some good news?
Next week's episode of GH will see Nelle shocked with some news. Michael's plans involve him delivering an apology to Nelle, and Chase will be an accomplice in faking Michael's death. Maybe Michael has plans in making alterations to his will, in case a disaster strikes.
Will Michael Nail Nelle This Time?
Michael might convince Nelle he'll leave everything to her in case she becomes a widow. GH fans know that she'd love to have all that Corinthos-Quartermaine money. The question is, will Nelle suspect? Zach's death is still a huge question up until now.
Did Nelle really kill her fiance? When a confrontation took place between her and Michael, she made it seem like she had nothing to do with it. At the time, viewers of the show were even convinced of Nelle's innocence.
Michael's 'Death'
Although Nelle badly wants Michael's possessions, it's possible she'll start to get worried. After all, she doesn't want the same thing to happen all over again—having the Corinthos family come after her like the Grants did.
But Michael knows how to tame Nelle. It will take a lot of convincing, but he'll be able to calm her down and argue that what he's doing is just a precaution.
However, General Hospital spoilers also reveal that Michael will arrange for a meeting with Alexis (Nancy Lee Grahn). He's taking a big risk on this move, but it's important to ensure that Nelle doesn't inherit Michael's money.
After Michael's "death," what do you think will happen? It's possible she'll be accused of attempted murder should Chase and Mike succeed in their scheme. Everything will unfold in next week's episodes of General Hospital, only on ABC.
"I will defend myself by whatever means necessary." #GH55 pic.twitter.com/tVixRKgKoY — General Hospital (@GeneralHospital) July 6, 2018
© 2019 Korea Portal, All rights reserved. Do not reproduce without permission.