'The Spy Who Dumped Me' Poster With Misspelled Name of Sam Heughan Could Go on Sale!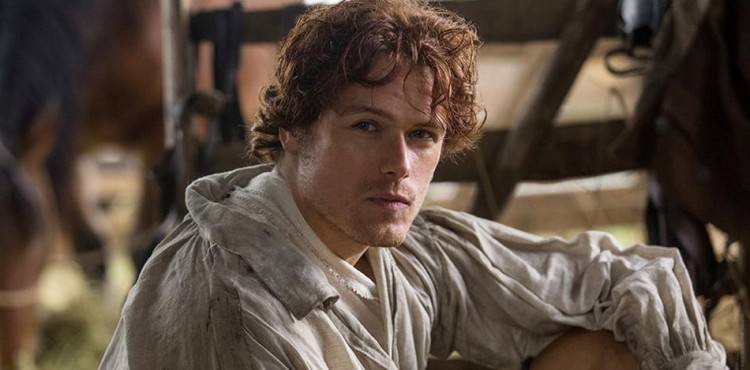 Outlander actor Sam Heughan had an interesting day. His name got misspelled in the official poster of his upcoming movie The Spy Who Dumped Me. But instead of feeling offended, the hunk actor just poked fun at it.
Heughan will appear in the movie alongside Hollywood A-listers Mila Kunis and Kate McKinnon. The Spy Who Dumped Me writer David Iserson promoted the flick by sharing a promo poster on Twitter. Heughan is seen in the poster, clad in a tuxedo, but the actor's fans immediately noticed something odd about the promo material.
The Scottish actor's name is spelled as Sam "Hueghan" instead of Sam "Heughan". In his post on Twitter, Heughan took the error lightly like a true gentleman (or spy).
"That's my pseudonym... spy needs a strong cover. No one will guess that, right?" Heughan wrote.
As soon as fans pointed out the mistake, Iserson immediately issued an apology and sharing another poster with the correct name. To lighten up the mood of some of the actor's fans who got pissed of the first promo material, Iserson joked that the poster is now a collector's item and could sell on eBay for $17,000.
One fan commented that it should be more than $17,000 since many will be interested in getting their hands on the poster. Given Heughan's popularity, it will be sold as soon as it becomes available online. See both posters below.
Another fan said Heughan's misspelled name could be worst if it was written as "Sam Hugeone." The fan is referring to the moniker given to the actor after the steamy scenes between Heughan's character, Jamie Fraser, and Claire (Caitriona Balfe) were showed in Outlander Season 1. Heughan admitted in a previous interview that it was not the first time he was called "Sam Hugeone."
Speaking of a false name and Sam Heughan, some of the actor's fans also fall victims of a fraudulent account that claims to be the Outlander star. The account was brought out after some online scammers tried to con the supporters of My Peak Challenge, a charity that is supported by Heughan. The people who are in-charge of the charity took to social media to warn their supporters about the scam and urged them to block any of the fraudulent accounts before they get any money from them.
Moreover, Heughan is not the only Outlander star who is being impersonated online. Fellow Scottish actor Graham McTavish, who plays Dougal MacKenzie in the Outlander TV series, is also a favorite of fraudsters. A least five fake Graham McTavish accounts were set up in the past year.
When one fan raised the concern to the actor, McTavish responded by saying, "I know. It's a drag." One of the accounts of claiming to be Graham McTavish retweeted the actor's photo with co-star Heughan, Caitriona Balfe (Claire Fraser), Sophie Skelton (Brianna Randall), and Duncan Lacroix (Murtagh Fitzgibbons Fraser).
Meanwhile, Heughan's The Spy Who Dumped Me will hit cinemas on August 3. Outlander Season 4, on the other hand, will premiere in November on Starz.
Brand new poster for #SpyWhoDumpedMe. Opens one month from today!!!! pic.twitter.com/weh87piXDo — David Iserson (@davidiserson) July 3, 2018
Crisis averted!!! Here is the poster with @SamHeughan's name spelled correctly. (But please note the mistake version is a collectors item and will sell for $17,000 on eBay.) pic.twitter.com/jpiSWvC6rM — David Iserson (@davidiserson) July 3, 2018
© 2019 Korea Portal, All rights reserved. Do not reproduce without permission.