Park Bo Gum, BTS V Bromance: Learn More About The Besties' Close Friendship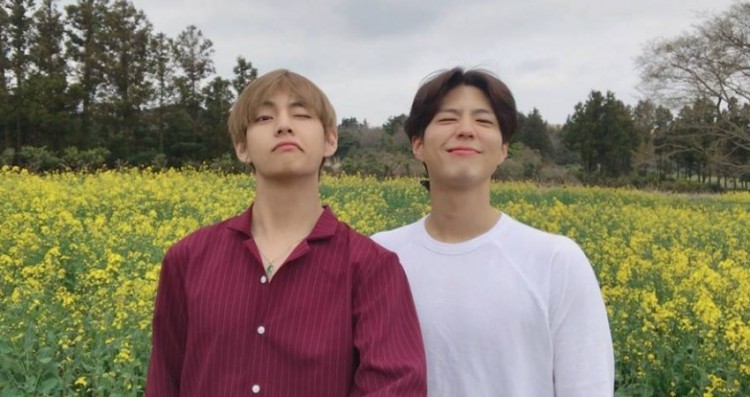 Park Bo Gum and BTS's V are known for their close friendship. In fact, they are talked about because of their bromance. As a lot of fans love the bond between the two, take a look back at some of their sweet moments.
Park Bo Gum and V have a lot of pictures together—especially when they went on a trip to Jeju Island. They even hosted an episode of Music Bank, per Koreaboo. They also support each other on social media.
The two also like to tease each other. In fact, Park Bo Gum tricked V when he said that BTS didn't win the week's music trophy. However, the 25-year-old star couldn't help but smile and revealed they actually won. When he gave their award, the besties can be seen smiling from ear to ear. The actor then congratulated his best friend and gave him a hug.
Meanwhile, Park Bo Gum earlier talked about his close friendship with BTS's V. In an interview, via DramaFever, the Love in the Moonlight star shared how their bond started. "I was a fan of BTS because their singing and dancing are both really good," he said.
Park Bo Gum went on to say that V first approached him and informed him they have a common friend who appeared on Tomorrow's Cantabile. The BTS member told this friend that he wanted to know where he could reach the actor. So when their same pal gave his contact details, V called him. From here, their friendship started.
In addition, Park Bo Gum also revealed that they both have interest in music. "We have a lot of interests in composing music and writing lyrics," he said. In fact, the Hello Monster star also wanted his fans to hear his own compositions. However, he admitted that he doesn't have enough knowledge about it yet, so he still has a lot of things to learn. He even wished his first song to be an OST of a movie or K-drama or a part of an album.
On the other hand, Park Bo Gum revealed that V has an interest in acting. As he is known as a good actor, does he give the BTS member some advice? "No. I didn't know what kind of advice to give," he said. He then explained that V knew the way he wanted to act, so he just suggested some things that he believed could be helpful.
© 2023 Korea Portal, All rights reserved. Do not reproduce without permission.