'Outlander' Season 4 Update: Sam Heughan & Caitriona Balfe Teases Sophie Skelton About Jaime & Claire Odd 'Gift'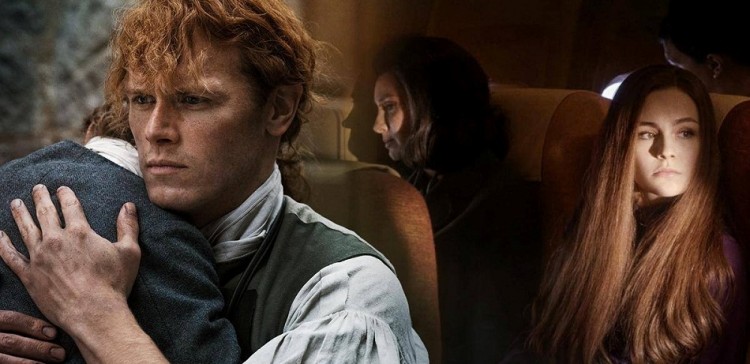 Sam Heughan and Sophie Skelton have yet to share a screen together in Outlander. However, based on how they exchange tweets, it looks like they know each other pretty well. The two possibly shot their scenes together in Outlander Season 4 as the filming for the upcoming installment is nearing completion.
Skelton recently shared her unfortunate experience on the set of Outlander Season 4. Her tweet garnered some reactions from fans but most importantly, from her onscreen parents Sam Heughan and Caitriona Balfe.
Skelton shared on Twitter that a bird pooped on her while filming on set. Some fans shared their superstitious beliefs about it. Balfe joined in and joked that the bird poop was a "gift" from Brianna's parents in Outlander. The actress added that the special "gift" was sent to Skelton to make sure that she will not miss her co-stars on set.
Heughan also participated in the exchange and jokingly told Skelton that they would send her a donkey next. Skelton then told Heughan and Balfe that she just sent the two something lovely in return of their "generosity" to their child. Skelton portrays the role of Jaime and Claire's daughter Brianna.
In the upcoming season, Bree will finally meet her father, Jaime Fraser. It was earlier confirmed that Brianna will travel back to the 18th century. She will be reunited with her mother and will finally see her father for the first time.
Outlander author Diana Gabaldon earlier teased the Jaime-Brianna reunion. She shared on her Twitter account a link that contains an excerpt from her Drums Of Autumn book about the emotional meeting. In the excerpt, Brianna is wondering if she will call Jamie "Daddy" since, for her, that person was Frank (Tobias Menzies).
Jamie then told her to call him "Da" instead. At first, Bree thought "Da" is a Gaelic word. Jaime tells her that it is not from the Gaelic language but just a short term for "Daddy" to make it easier to Brianna.
Moreover, Brianna will also reunite with Frank in Season 4. Some leaked images from the set of the Starz drama showed Menzies filming scenes at a harbor. One of the photos showed Skelton and Menzies in the same scene. Outlander Season 4 is filming in several locations in Europe.
Meanwhile, Balfe and Skelton will be joining their fellow Outlander cast members in The Highlanders 3 convention in August. The two will appear in the event in Birmingham, United Kingdom along with Menzies and Richard Rankin (Roger Wakefield). The convention is set on August 10 to 12. Meanwhile, Outlander Season 4 is scheduled to premiere on Starz in November.
© 2023 Korea Portal, All rights reserved. Do not reproduce without permission.