SHINee New Album Update: Fans See Jonghyun In K-Pop Group's New MV Teaser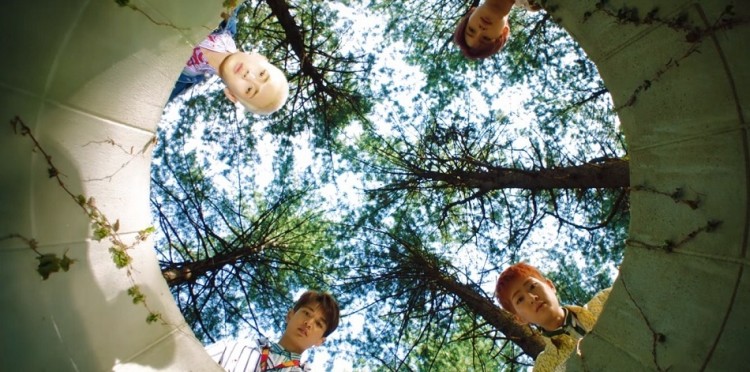 SHINee fans are clearly missing Jonghyun. They believe that the shadow that appeared in the band's new MV teaser for their upcoming album represents Jonghyun.
The K-pop band is set to release their very first album without Jonghyun. The band's comeback album, titled The Story of Light, is slated to drop later this month. Ahead of the EP release, SHINee shared an MV teaser for the first edition of the three-part album.
The clip for "Good Evening" track received praises for its captivating visual but hawk-eyed fans noticed something else in the video. At the beginning of the teaser, the SHINee members gathered around to look inside a well. As they look down, a mysterious shadow appeared in the left corner of the video.
SHINee's fandom believed that the shadow in "Good Evening" track MV represents Jonghyun. Many fans said the group subtle included him in the clip to show that he is never forgotten and he is still part of the band. Aside from the shadow, there are also five trees that can be seen in the background. Fans believe that all of these symbolize that SHINee is still a five-member group. Check out the teaser below.
So far, the teaser already garnered over half a million views since the release on Sunday. SHINee has also dropped some concept photos for the upcoming album.
SHINee will release the first part of The Story of Light album on May 28 at 6 p.m. KST to commemorate their 10-year anniversary. Choi Min-ho, Lee Taemin, Onew, and Key will also hold a "SHINee Day" fan meet on May 27 in Seoul, South Korea.
The Story of Light album is SHINee's first Korean album with only four members. SHINee released last month their Japanese single, "From Now on", which is posthumously featured Jonghyun.
Meanwhile, SHINee fans are demanding a permanent memorial for Jonghyun after a temporary memorial at the SMTOWN Coex Artium in Seoul was closed down last month. Jonghyun took his own life in December 2017 after struggling with depression.
Fans of the group gathered at the memorial every day since it was opened in January. They left notes and tokens to remember the singer. SM Entertainment has closed down the memorial but assured that the notes and mementos left by fans have been gathered and saved.
"How is SM opening a damn museum but can't keep a memorial for Jonghyun. If it really is about the 'costs' then I'm sorry but the memorial is barely a room compared to a museum. It's NO excuse. Jong honestly deserves more than four months considering he gave over ten years to SM," one fan commented.
The quintet has been known as one of most influential K-pop acts in the past decade. They debuted on May 25, 2008. Their first single "Replay" was a hit as well as their other tracks such as "Love Like Oxygen," "Everybody," "Ring Ding Dong," "Lucifer," and "View." They have reached the peak of several music charts throughout the years.
© 2023 Korea Portal, All rights reserved. Do not reproduce without permission.