BIGBANG's Seungri Reveals Why He Agreed To Be The New Face Of Tinder Korea; K-Pop Singer Explains Why You Are Still Single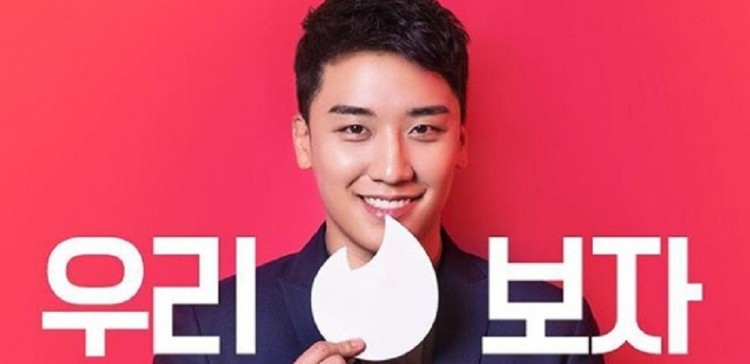 BIGBANG member Seungri is the new model of the dating app Tinder in South Korea. Many are wondering how the company was able to convince the K-pop artist to endorse the app considering he doesn't need to look for a date as many would definitely sign up to go out with him. So why did Seungri say "yes" to the offer?
It turns out K-pop artist Seungri is a Tinder user. There is no surprise there as a product/service endorsement would mean you are using the product or service. Seungri reveals he signed up for the Tinder endorsement because he actually uses the app.
"Friends of many nationalities that I meet through tours abroad and business use Tinder a lot," said Seungri in a press release (via Asia One). "It's a good fit for me, as I enjoy meeting new people," he said on one of his ads.
Tinder Korea has released three ads for the app featuring Seungri. In one of the promo materials, the K-pop singer is dressed in a sporty yellow jacket while holding a smartphone showing the app. In another image, Seungri is dressed in a suit with a champagne glass in his hand.
Apparently, the larger versions of Seungri's ads will be displayed in the Gangnam and Suseo stations in Seoul and in other location across Korea starting Thursday. The app also released the first CF with Seungri where he explains why many are still single. He also shares the benefits of finding love through the dating app. Check out Seungri's Tinder CF below.
Many BIGBANG fans are thrilled seeing Seungri endorsing Tinder. However, others are having doubts if they need to sign up to meet someone through the app when the only person they want to date is Seungri. "How does Seungri expect me to go on tinder when he's the only meal I'd rather be eating all day long," one fan commented.
Moreover, the chances to secure a match with Seungri are a little low unless you happen to be around the area the singer is and he also swipes right on your photo. Tinder is a location-based social mobile app that allows people in nearby areas to meet. Both parties should swipe to the right to form a match.
Additionally, the number of Tinder users in the country is expected to increase now that it has Seungri as its endorser. Tinder made its debut in South Korea in 2015. However, it is not as popular as the other dating apps in the country. The most popular dating app in South Korea is Amanda, which has more than 4 million users. Tinder is not even in the Top 10 of the most popular dating apps in South Korea.
The number of Tinder users in Korea, however, went up by 348 percent near PyeongChang earlier this year. The increase was linked to the number of people who wanted to date the athletes from 2018 Winter Olympics in PyeongChang.
The Tinder ad marks Seungri's first solo endorsement since he was introduced with the rest of BIGBANG members in 2006. Meanwhile, Seungri is expected to start his enlistment in the military after he releases his solo album sometime in mid-2018. BIGBANG member G-Dragon started his mandatory service in February, while Taeyang and Daesung got enlisted in March. T.O.P., on the other hand, is currently serving as a public service worker. He is set to be discharged in June 2019.
© 2019 Korea Portal, All rights reserved. Do not reproduce without permission.