'This Is Us' Could Break Records In 2018 Emmy Awards; All Lead Stars Could Be Nominated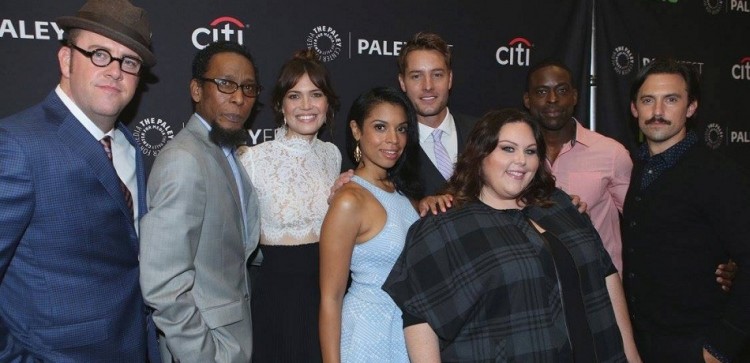 In the 2017 Emmys, Milo Ventimiglia (Jack Pearson) and Sterling K. Brown (Randall Pearson) were both nominated for Best Drama Actor, where Brown bagged the award, while Chrissy Metz (Kate Pearson) got a nod for Best Drama Supporting Actress.
This year, it was predicted that all five actors who play the roles of Pearson family members—Ventimiglia, Brown, Metz, Justin Hartley (Kevin Pearson), and Mandy Moore (Rebecca Pearson)—would be nominated. All five actors played their respective characters in the second season of the series exceptionally.
According to Goldderby, 63 percent of its users predicted that all five This Is Us stars would get nominations this year. Ventimiglia and Brown are leading the odds for Best Drama Actor while Metz is believed to get a nod in Best Drama Supporting Actress category. Moore is seen as one of the tough contenders for Best Drama Actress, while Hartley could be nominated for Best Supporting Actor.
Moore was praised for her performance in a special post-Super Bowl episode in which Jack dies. Moore previously received a nomination from the 2017 Golden Globe for playing Rebecca. Hartley, on the other hand, was lauded for his performance in the episode "Number One" particularly for his heartbreaking plea to the woman he had a one-night stand with to find his father's necklace.
Whichever way the nomination goes, This Is Us could possibly break an Emmys record. If both Ventimiglia and Brown get nominated again for the same category this year, this will make them the first co-stars to get back-to-back nods in the Best Drama Actor category in 19 years. The last duo who scored multiple Best Drama Actor nominations together were NYPD Blue actors Dennis Franz and Jimmy Smits. They were both nominated from 1995 to 1999.
True Detective actors Matthew McConaughey and Woody Harrelson were the last co-stars who were both nominated for the same Best Drama Actor category in 2014. However, they were not nominated the following year as True Detective Season 2 featured a new set of actors.
More so, if Ventimiglia, Brown, and Hartley all get nominated in one category, it will be another first for the Emmys. Meanwhile, Brown is leading in the Best Drama Actor category for the second consecutive year. However, there are also predictions that if he loses this year, it will be to Ventimiglia.
The 2018 Primetime Emmy Awards is set to announce the list of nominees on July 12. The awards night will air live on September 17. This Is Us Season 3 is expected to premiere in September 2018.
© 2023 Korea Portal, All rights reserved. Do not reproduce without permission.