EXO-CBX's No. 1 Fan Is Sehun; K-Pop Idol Waited In Line At Fan Sign Event To Support Bandmates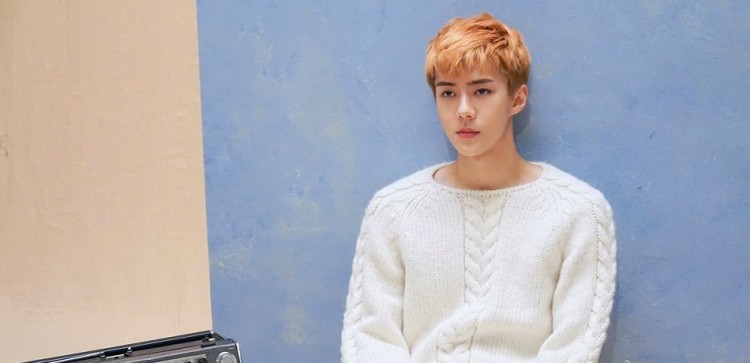 EXO members have proven that they are not just a band—they are brothers. EXO members have shown their support to the band's sub-unit, EXO-CBX, in many different ways. The latest idol who surprised Chen, Xiumin, and Baekhyun is Sehun.
Recently, EXO-CBX held a fan sign event at Goyang, Gyeonggi-do in South Korea. Many fans lined up to get their idols' autographs, and among them is Sehun. Dressed in an all-black outfit, he stood in line and waited to get the signatures of the K-pop idols like everyone else.
When he was finally in front of his bandmates, the EXO-CBX trio burst into laughter as they realized that he wasn't a regular fan who came to ask for their signatures. Chen sweetly greeted the youngest member of EXO and had a quick chat before Sehun moved on to Xiumin. The latter gave Sehun a bear hug.
At one point, Xiumin and a man, who looks like a security manager for the group, jokingly asked Sehun to move aside while he waited for his turn to get Baekhyun's signature. Baekhyun also took time to chat and laugh with Sehun. Sehun quickly left the stage after he got Baekhyun's signature.
"Sehun came here to support us but he left quickly because he didn't have makeup on. He said he didn't know there would be so many fans here ... He was so shy that's why he ran away and left," Baekhyun jokingly told their fans after Sehun left.
Following the event, Sehun, on his Instagram account, shared the autographs that he received from EXO-CBX. He simply captioned the photo: "I finally got EXO-CBX's autographs."
Other EXO Members Showed Support For EXO-CBX
Sehun is not the only member of EXO who surprised the trio. Lay visited the set of SBS's Inkigayo, where EXO-CBX participated in a pre-broadcast filming. After the shooting, Lay reportedly went on stage to greet EXO-CBX fans.
Chanyeol also dropped by to say "hi" to Chen, Xiumin, and Baekhyun during one of their recordings for a music program. He took to Instagram to share a video of him bringing food to his bandmates. He also took a group selfie with the trio and captioned it, "This is loyalty."
Suho made a surprise visit during EXO-CBX's filming of MBC's Music Core. D.O. showed up on the set of the group's music video and album jacket filming. He also imitated Xiumin's voice while doing a radio interview.
EXO-CBX is currently promoting their comeback album, Blooming Days. They are also set to appear in the first episode of the new EXO reality show, titled EXO's World Trip On A Ladder. The teaser for the episode has also dropped. The first episode, featuring Chen, Xiumin, and Baekhyun, will be released on May 21 at 10 a.m. KST via Oksusu.
© 2023 Korea Portal, All rights reserved. Do not reproduce without permission.
Tags:
EXO
,
exo cbx
,
EXO Sehun
,
Sehun
,
Chen
,
Xiumin
,
Baekhyun
,
Lay
,
Chanyeol
,
Suho
,
D.O.
,
EXO-CBX New Album
,
EXO members
,
K-pop
,
K-pop Idols