'Days Of Our Lives' April 23-April 27 Episodes: More Kidnappings, Chadf's Arrest, & Brady's Health Scare Coming Up In Salem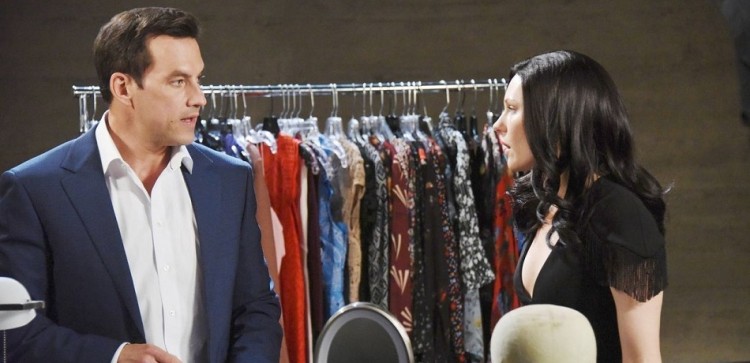 Days of Our Lives fans will be stunned by the series of unfortunate events in the upcoming episodes of the NBC soap. Two more residents of Salem will be kidnapped and locked up in a secret room at the DiMera mansion with Marlena. Another will get arrested, while Lucas will rush Brady to the hospital.
DOOL

April 23 (Monday) Episode

Kate (Lauren Koslow) and Vivian (Louise Sorel) will be abducted and thrown in DiMera's secret room with Marlena (Deidre Hall). In this week's episode, Marlena warned Stefan (Tyler Christopher) that he is making a big mistake. Abigail's alter-ego, Gabby (Camilla Banus), attacks Marlena and Stefan will help Gabby lock Marlena away.

Vivian knows about Abigail's (Marci Miller) split personality disorder. Stefan convinced her to keep quiet to avoid suspicion about Andre's (Thaao Penghlis) murder. Kate, on the other hand, will soon find it out on April 20 episode that Abigail is the mystery woman that everyone has been looking for.

Kate and Vivian are threats to Gabby so she will decide to keep them away from Salem too. In the lockup, Vivian and Kate will argue with each other. Sadly for Marlena, she will be stuck in the middle of their drama.
DOOL

April 24 (Tuesday) Episode

Spoilers indicate that Rafe (Galen Gering) and Hope (Kristian Alfonso) are determined to prove Gabby's innocence in Andre's murder. The two will be forced to arrest Chad (Billy Flynn).
DOOL

April 25 (Wednesday) Episode

Victor (John Aniston) makes an inquiry about Brady's (Eric Martsolf) past. The crime boss will come up with a decision after seeing his grandson's commitment to winning back Eve (Kassie DePaiva).
DOOL

April 26 (Thursday) Episode

Steve (Stephen Nichols) lashes out once he realized that he let Abigail slip through his fingers. Steve is frustrated that he can't do anything to stop Abigail because of his health issues. Steve thinks Ciara (Victoria Konefal) is the right one for his son.
DOOL

April 27 (Friday) Episode

Lucas (Bryan Dattilo) will rush Brady to the hospital. It is unclear why Brady needs medical attention. Meanwhile, Chloe (Nadia Bjorlin) will be in a very dangerous situation. She will be abducted by creepy Miguel (Philip Anthony-Rodriguez). The character first appeared in the series in March in some scenes with Lucas and Chloe. Days of Our Lives airs weekday afternoons on NBC.

© 2019 Korea Portal, All rights reserved. Do not reproduce without permission.