Seventeen Update: Carats Unveil 3rd Anniversary Billboard Ad In New York, BooSeokSoon Unveils New Song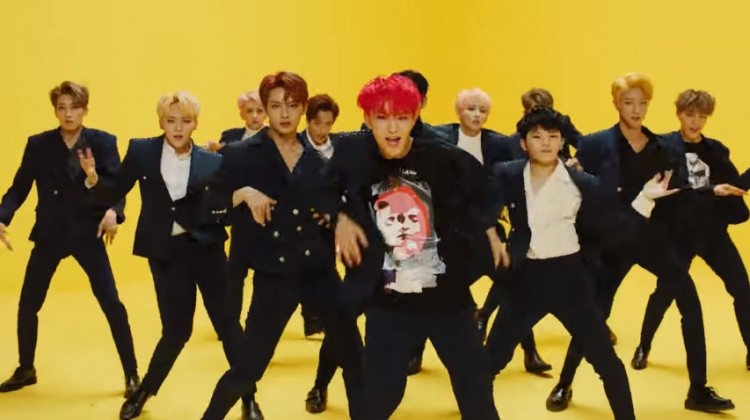 Seventeen is about to celebrate their third anniversary, and it looks like their fans, Carats, are now excited. In fact, their group of supporters in the U.S. is now preparing to celebrate their third year in the business with an ad.
Carats put up a billboard ad in Times Square, New York, for Seventeen's debut anniversary. The South Korean boy band's U.S. fans, evidently, went to the next level by revealing an ad with clips from the group's music videos like "Clap," "Thanks," and "Don't Wanna Cry." This is said to be their supporters' early gift for them, SBS reported.
So, it looks like fans will have to wait until May to see what Seventeen will do for their third-anniversary celebration. To recall, Seventeen was formed by Pledis Entertainment in 2015. The group consists of 13 members who are divided into three sub-units. Each group specializes in different genres from hip-hop to vocals and performance. Ever since they were introduced on May 26 of the said year, they had become one of the biggest South Korean boy bands who are still active in 2018.
The group became known because of their different kind of songs which go from funk pop to evocative EDM. In fact, two of their albums got to the World Albums' No. 1 chart. This even includes Seventeen's second LP, Teen, Age, which was released in November 2017.
Meanwhile, Seventeen's three members, DK, Seungkwan, and Hoshi— or also called BooSeokSoon (BSS), launched the group's subunit on March 21. They, too, unveiled their very first song, "Just Do It." The track brags "funky instrumentals" with a touch of electropop tune and a lot of the trio's energetic vocals and invaluable rap, per Billboard.
"Just Do It" was produced by Seventeen's Woozi, who also wrote most of the original group's songs. Other BSS members also took part in writing the track's lyrics. DK and Seungkwan are part of the South Korean boy band's vocal team, while Hoshi is a member of the group's performance or dance unit.
In the same month, BSS unveiled the "Just Do It" music video. It was a concert performance by DK, Seungkwan, and Hoshi. However, the MV's audio is said to be a studio recording that replaced the tune's original live sound.
© 2019 Korea Portal, All rights reserved. Do not reproduce without permission.
Tags:
Carats
,
Seventeen
,
Times Square
,
New York
,
Pledis Entertainment
,
DK
,
Seungkwan
,
Hoshi
,
BooSeokSoon
,
BSS
,
Just Do It