'Something in the Rain' Update: Jung Hae In Stunned By Son Ye Jin's Beauty, Show's Title Inspired By Song Hye Kyo, Song Joong Ki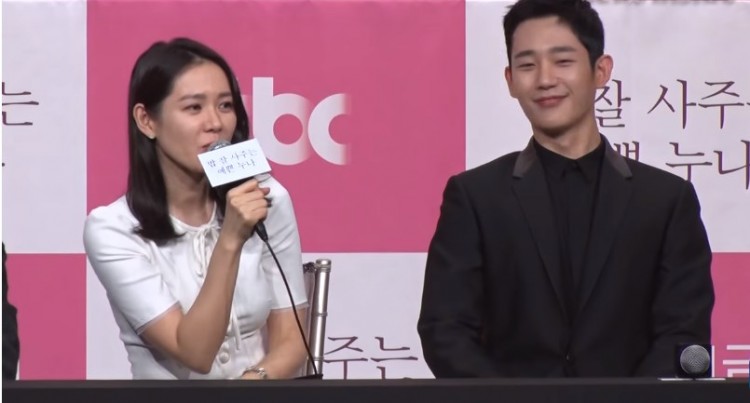 Jung Hae In and Son Ye Jin will be working together in the upcoming new drama, Something in the Rain. However, at the show's press conference on Thursday, March 28, the 29-year-old actor revealed that he felt awkward having her around.
"She was so beautiful I couldn't look at her at first," Jung Hae In said, via All Kpop. He remembered their first scene at the snack cart where they had to be close to each other that he had a hard time looking at her eyes.
Jung Hae In admitted that he was so nervous at the time and couldn't help but be stunned with Son Ye Jin's beauty. The Something in the Rain's leading man also commends the way the 36-year-old actress laughs. He finds it very pretty.
He even praised her for the way she "put people in a good mood with her energy." Something in the Rain is Jung Hae In's first romantic project. For him, having Son Ye Jin as his on-screen partner is just like a dream come true.
Something in the Rain is translated into Korean as Pretty Noona Who Buys Me Food, according to Soompi. This title is inspired by Song Joong Ki and Song Hye Kyo, according to the same source. Producing director Ahn Pan Seok revealed that he was surfing the internet when he saw the phrase "noona who buys me food."
He explained that it was actually from a famous couple's interview. They later got married after saying that phrase. "I thought it was really witty," he said. This couple happens to be Song Joong Ki and Song Hye Kyo.
To recall, Song Hye Kyo told Song Joong Ki and Yoo Ah In that she is a "good noona who buys them food" during an interview before their engagement. As Jung Hae In and Son Ye Jin will be depicting the phrase that was made famous by the star couple in Something in the Rain, the actress was asked if she could be the pretty noona.
Son Ye Jin revealed that she often tried to buy him food, but he always paid for it first. Jung Hae In, on the other hand, jokingly said that he was actually planning to ask her to buy more expensive food for him.
Something in the Rain begins on March 30 at 11 p.m. KST on JTBC.
© 2022 Korea Portal, All rights reserved. Do not reproduce without permission.