BTS Update: 'Mic Drop' Singers Might Be Collaborating With Fandom Store Hot Topic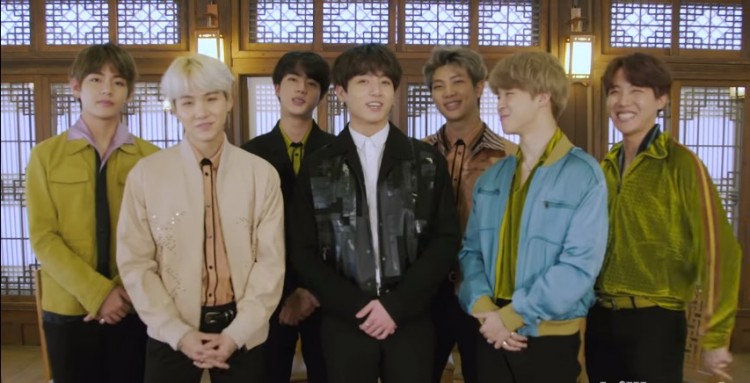 It looks like BTS fans will soon have more collectibles of their favorite South Korean boy band as it might have collaboration with the known fandom store, Hot Topic. The merch shop has been teasing a new partnership with the "DNA" singers on its Instagram account.
On Tuesday, March 6, Hot Topic revealed what seemed to be a logo of BTS' name. It started with a single letter "S" and captioned it with "No More Dream(ing)." The post's comment box has been filled with a lot of assumptions from their followers, saying that it could be BTS.
"OMG BTS YES," one fan said. Another follower predicted that Hot Topic might be partnering with the "Mic Drop" singers to sell their merchandise, so it could be easier for fans to buy their items.
In another post, it shared another photo of the letter "T" along with the caption, "Not Today." Does this mean that it is not yet going to reveal that it is BTS? This made the assumptions stronger that Hot Topic is referring to BTS.
According to All KPop, it might not come as a surprise that Hot Topic will be carrying BTS fandom. As this store already has another K-pop artists merchandises, like YG Entertainment artists, Monsta X, and more, having the group on its list. So, it looks like fans just have to wait for the letter "B" post.
A post shared by hottopic (@hottopic) on Mar 6, 2018 at 6:00pm PST
Meanwhile, its BTS Suga's birthday on Friday, March 9, and fans are filling the Twitter universe with greetings and messages. In fact, they are using the hashtags, Happy Suga Day and Genius Yoongi Day. The South Korean rapper is now 25-years-old
At 25, Suga has achieved a lot from being a singer, rapper, songwriter, to a record producer. Aside from singing with the BTS, he also has a solo mixtape, titled Agust D, which was released in 2016. He also has written and produced more than 60 songs for other artists as well.
Not only that, he along with his BTS group was also chosen as the new ambassador for Puma. They, too, won a number of awards from Gaon Chart Music Awards, Golden Disc Awards, and Korean Music Awards. They are also nominated for Best Fan Army and Best Boy Band at the 2018 iHeartRadio Music Awards, which is happening on Sunday, March 11.
© 2023 Korea Portal, All rights reserved. Do not reproduce without permission.