Monsta X Update: I.M And The Rest Of The Group Display Great Concern To Their Aides And Fans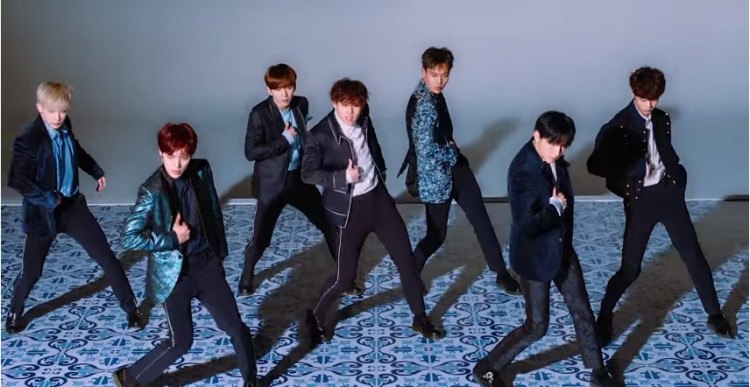 Monsta X has caught the attention of many people with their good deeds to their fans and guards. As I.M was seen helping his aid not to get wet, others protested to not let their fans kneel for a photo shoot.
While working abroad, the group was caught in a heavy rain, thus their guards were held under the umbrellas for them. As I.M realized that the girl shielding him was getting wet, he took the umbrella and moved her closer to his side so she won't get wet.
On the same day, Monsta X was set to have a photo session with their fans. However, to include them all in the frame, their supporters had to kneel in front of them so everyone could be seen, All KPop reported.
I.M didn't like what their staff asked their fans to do, thus he immediately reacted and told their supporters that they didn't have to kneel. Other members of the group also didn't like that move, thus they also complained.
The 22-year-old lyricist then asked for chairs that their fans could use, so they don't have to kneel just for a picture. One fan shared Monsta X's sweet act on Twitter and described the boys as "sweethearts." In fact, the clip is now spreading like a wildfire to the fandom and it totally made everyone touched.
짱균 대박짤 등장pic.twitter.com/J3iRYNKzel

— Syrup (@hamstaxxx) Marso 4, 2018
Monsta X was in Singapore for its very first outdoor public press conference in. This was made before they were set to headline an exclusive show for the HSBC Women's World Championship Music Festival.
In spite of the heavy downpour, a lot of Monbebes gathered to attend the event and see their favorite South Korean boy group. Clearly, the group lived up to their expectations as they greeted them with cheerfulness, friendliness, and concern that they might get sick because of the rain.
Omg I didn't see this happen... the fans were kneeling down for the photo and the boys kept telling the staff it's not right to let the fans kneel so they asked the staff to bring back the chairs ㅠㅠㅠㅠㅠ our boys are such sweethearts I love them so much pic.twitter.com/QrWiFpqi83 — glenda #The_Connect (@yookihyuns_) Marso 4, 2018
Moreover, Monsta X announced their much-awaited return with a new album, titled The Connect, on Sunday, March 4. However, the boy group from Starship Entertainment didn't reveal their LP's official release date, but some believe that it will happen sometime this month.
From the looks of it, via Soompi, the new album's title and teaser photo seemed to hint that it will once again have a sci-fi theme. This is the same concept that their previous album, The Code, and their song, "Dramarama," have
© 2023 Korea Portal, All rights reserved. Do not reproduce without permission.