'Criminal Minds' Season 13 Episode 15 BAU Team Future In Danger, JJ Threatens To Give Up Post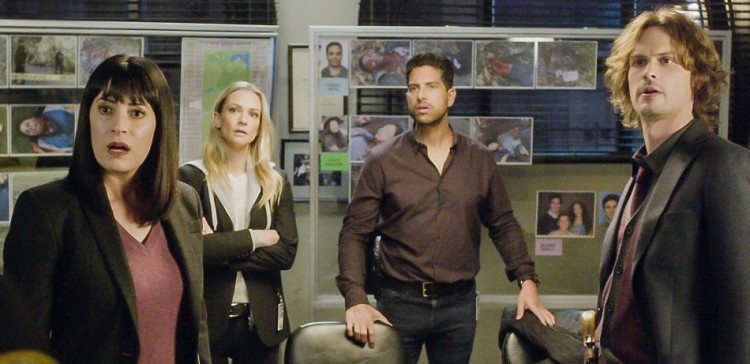 The future of Emily Prentiss at the FBI Behavioral Analysis Unit is still unclear. Fans, however, are hoping that they will finally get some answers on whether or not Prentiss will get back on her post when Criminal Minds Season 13 returns next month.
There is definitely a serial killer on the loose in St. Louis. The FBI BAU team will be called in to investigate a quadruple homicide of a group of roommates. This seems to be a usual case for the team except for this time Prentiss (Paget Brewster) will not be leading them. Instead, FBI assistant director of national security Linda Barnes (Kim Rhodes) will be joining them in St. Louis.
Criminal Minds Season 13 Episode 15 Preview
In Episode 15, titled "Annihilator," the BAU team will be flying to Missouri to help the local police solve a case. Prentiss will be sitting this one out after Barnes suspended her from active duty. JJ Jareau (A.J. Cook) is supposed to lead the profiler team since she was appointed by Barnes as acting unit chief. But it looks like Barnes will be stepping in, limiting JJ's freedom to do her job.
However, Barnes' attitude will not fly on JJ. In the sneak peek for the upcoming episode, Barnes is seen telling JJ to ask for her approval first before making any action. This makes the blonde agent furious and threatens to abandon her new task since Barnes has been meddling with their case.
David Rossi (Joe Mantegna) tells JJ not to give up her new post. Rossi also warns JJ not to make drastic decisions as unit chief because that is how Barnes got rid of Prentiss. It can be recalled that Barnes had pointed out to Prentiss some of the questionable decisions she made since she assumed the post. Barnes' list includes how Prentiss handled Reid's arrest in Mexico and Stephen Walker's death.
Is Prentiss Leaving The BAU?
Spencer Reid (Matthew Gray Gubler) can be heard in the teaser telling Prentiss that he will not allow Prentiss to destroy her own career just because of the FBI assistant director. It can be recalled that Barnes asked Prentiss to give up Rossi and Reid but Prentiss refuses to sacrifice anyone from her unit.
Reid urges Prentiss to stay and fight for her team. It looks like Prentiss is contemplating of leaving the BAU or possibly going back to Interpol. Will she leave or will she prove her loyalty to her team once again? As for JJ, she will be keeping her new post while the rest of the team is trying to convince Prentiss to fight for her unit.
Is FBI BAU Disbanding?
In the previous episode, Matt Simons (Daniel Henney) has given her teammates a fair warning - Barnes could be planning something against their unit. Simmons told them that it was Barnes who pushed for the disbanding of his former team, the FBI International Response Team.
In her talk with Barnes, Prentiss accused the FBI assistant director of intentionally breaking down unit, like what she did with IRT. She will then recreate new ones the way she wanted it to be, like what she may be planning for BAU. So is BAU in danger of being disbanded? Well, Penelope Garcia (Kirsten Vangsness) made sure that fans will feel the fear of that scenario in the recently released teaser.
Criminal Minds Season 13 Episode 15 will air on March 7 at 10 p.m. EST on CBS.
© 2019 Korea Portal, All rights reserved. Do not reproduce without permission.