'Outlander' Season 4 Star Catriona Balfe and Sam Heughan Reveal Most Romantic Things For Claire and Jaime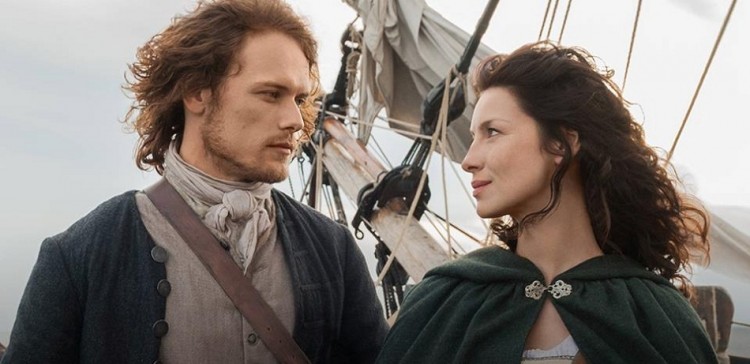 The Droughtlander has been quenched once again. Outlander Season 4 lead stars Catriona Balfe and Sam Heughan gave their fans something to cling onto as the wait for the next season gets unbearable. The stars shared the most romantic things their characters have done for each other.
Starz released a Valentine's Day video that features Balfe (Claire Randall Fraser) and Heughan (Jamie Fraser) along with other cast members. They talked about the sweet gestures they had done in the series. The on-screen couple also played a fun game inspired by the 1989 hit film, When Harry Met Sally.
At the opening of the video, Hueghan and Balfe are seen recreating an intimate scene in the movie where Sally (Meg Ryan) had sex Harry (Billy Crystal). It was a short scene but Balfe and Heughan clearly enjoyed it as they burst into giggles. Then they talk about the most romantic gestures their character did to each other.
Claire's Most Romantic Gesture to Jaime
Balfe asked Heughan on what is the most loving thing Claire has given to her Scottish husband. The actor said it was when Claire gave Jaime a child. Outlander fans couldn't agree more. In the series, Jaime let Claire go back to the 20th century to save their unborn child while Jaime engaged in the Battle of Culloden. Claire gave birth to Brianna and raised her child with husband, Frank Randall (Tobias Menzies).
When Claire found out that Jaime survived the Battle of Culloden, she came back to the 18th century to find him. When they finally met, Claire showed Jaime some pictures of Brianna. The Claire-Jaime reunion is so far the most watched episode of the series.
Jaime's Most Romantic Gift to Claire
For Heughan, it is the pearl necklace that Jaime gave his wife on their wedding. It is quite a sentimental family heirloom for Jaime since it was his mother's jewelry. Balfe disagreed at first and said it was "a lovely bath" but then Heughan stressed that Jaime is a very romantic person. Balfe agreed and added the most important gift of Jaime to Claire is love.
The video also showed other couples from the show - Sophie Skelton (Brianna Randall) and Richard Rankin (Roger MacKenzie), César Domboy (Fergus Fraser) and Lauren Lyle (Marsali Fraser) as well as John Bell (Young Ian). They too shared the most adoring things their respective characters done for each other, except for Bell who remembers Young Ian's admiration for a barmaid.
Season 3 finale left off with Jamie and Claire washing up on the shore of the Georgia coastline in colonial America, after having survived a shipwreck at sea. Season 4 will be based on the fourth book, Drums of Autumn, in Diana Gabaldon's Outlander novels. It follows the life of Claire and Jamie as they journey into a new continent.
The Starz hit series is currently filming in several locations in Europe. Outlander Season 4 is expected to hit the screen later this year.
© 2019 Korea Portal, All rights reserved. Do not reproduce without permission.