'The Princess And The Matchmaker' Update: Lee Seung Gi, Shim Eun Kyung, Kang Min Hyuk, Jo Bok Rae Talk About The Movie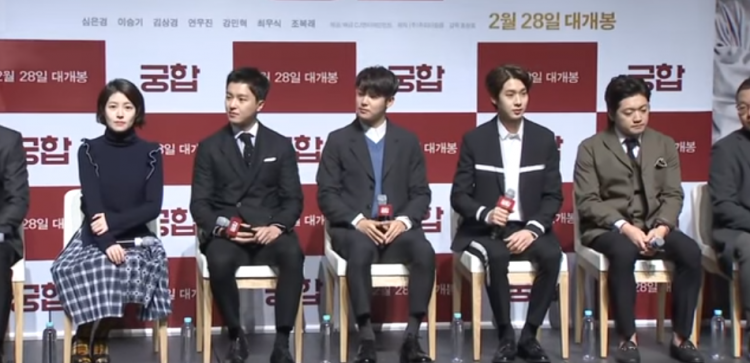 Lee Seung Gi, Shim Eun Kyung, Kang Min Hyuk, and Jo Bok Rae graced the V Live on Monday, Feb. 12, to talk about their upcoming film, The Princess and the Matchmaker. The four openly talked about the movie's production, their characters, and fortune-telling, which the film is all about.
Min Hyuk plays the role of Kang Whi, the most handsome man from the group of guys who could be Princess Songhwa's (Eun-Kyung) husband. When asked if he believes that he matches his character's description, he simply said that he is just 30 percent fine-looking as there are a lot of attractive actors in Korea.
Bok Rae also talked about how he and Seung Gi prepared themselves to play their characters as Gae-Shi and Seo Do-Yoon. The Princess and the Matchmaker's production company, Jupiter Film, has introduced Seung Gi to a professional fortune-teller to play his role well.
In fact, the singer-actor admitted that he has no idea what is the difference between psychic reading and fortune-telling until he did the film. Bok Rae, on the other hand, revealed that he used the internet to thoroughly research about his character as a swindler.
Moreover, Eun Kyung admitted that she never tried fortune-reading; worrying that she might get anxious if someone tells her what will happen in the future. She strongly believes that she creates her own destiny, thus knowing what might come is not needed.
Film-wise, Eun Kyung was also described as the "compatibility king" on the set of The Princess and the Matchmaker. This is mainly because of her being shy and quiet.
"Many people helped me to adapt well. When I get close to others, I become talkative."
The Princess and the Matchmaker is a historical comedy-drama based on the Joseon Dynasty that happened from 1392 to 1910. As the nation is hit by dire drought, the King (Kim Sang-Kyung) of Joseon believed that the marriage of his daughter, Princess Song-Hwa, is the only thing that can stop phenomena.
So, to get the best husband that could match her destiny, they get the service of the best fortune-teller in town - Seo Do-Yoon.
The Princess and the Matchmaker is the second film of the three-part movie series based on Korean's fortune-telling tradition. The first one was The Face Reader.
The Princess and the Matchmaker is set to hit the Korean theaters on Feb. 28.
© 2023 Korea Portal, All rights reserved. Do not reproduce without permission.