BTS Gets Another Gold Certificate For 'DNA' From RIAA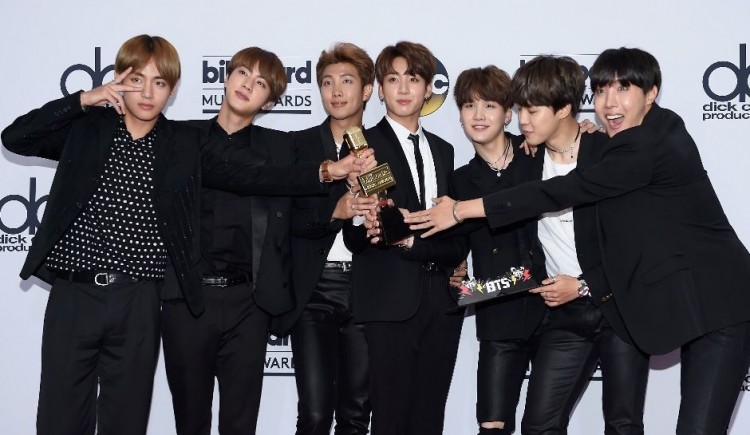 Another achievement has been unlocked for the favorite K-pop group, BTS or the Bangtan Boys. The South Korean boy band was named as the first and only K-pop group to have two gold-certificate singles in a row.
Recording Industry Association of America (RIAA) now certified BTS' song, "DNA," from the album Love Yourself: Her for hitting the gold mark record. In fact, the company has updated its website to show that it has reached its standard to acquire a gold certification.
This means that "DNA" has surpassed selling 5,000 units. RIAA based the number of units' sold per the song's digital download, sales volume, and video streams, according to Korea Daily. It gives gold certification for over 500,000 sales, platinum for over 1 million sales, multiple platinum for over 2 million sales, and diamond for over 10 million sales.
Aside from "DNA," BTS also got their first gold certification for their song, "Mic Drop Remix," earlier this month. This, too, made the group the first K-pop group to receive this prestigious honor.
To recall, Psy was the first Korean artist to have a gold-certificated song with his hit single, "Gangnam Style."
Additionally, BTS' Love Yourself: Her album makes another record achievement by having the most sales in Gaon chart's history for a single album. It was recently announced that the LP now sold a whopping 1,585,834 units, per Soompi.
Of course, the band's record label, Big Hit Entertainment, was proud to reveal the award BTS has received. "RIAA certified BTS' 'DNA' as a gold digital single last Friday," the company said in a statement.
Love Yourself: Her was released in September 2017 and said to be about expressing the love of youth and a heart full of love. "DNA," on the other hand, is the album's title song.
With BTS' cult following, it quickly became a sought-after, a fan-favorite, and hit the number one spot of iTunes Song Charts in 32 countries around the world. It is also included in the US Billboard Hot 100, ranking at number 67.
Fans around the world are even celebrating BTS' success as the A.R.M.Ys started to make the hashtag #DNAwentGOLD trending on social media.
© 2023 Korea Portal, All rights reserved. Do not reproduce without permission.