'Scandal-How to Get Away With Murder' Crossover: Annalise Begs For Olivia's Help; Trailer Teases a Clash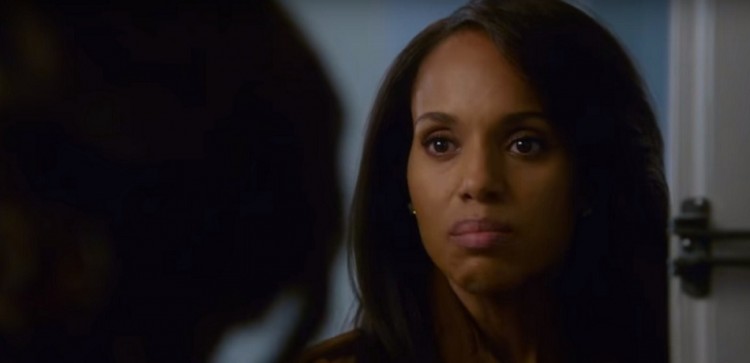 For the first time in Shondaland, a Scandal-How to Get Away With Murder crossover is happening. It is expected feature explosive back-to-back episodes.
ABC announced earlier this year a TGIT crossover featuring the team up of two strong-headed women - Olivia Pope (Kerry Washington) and Annalise Keating (Viola Davis). The network has released a couple of photos from the two-hour crossover showing the characters of both series meeting for the first time. One of the photos shows Annalise and Michaela talking to former President Fitzgerald Grant (Tony Goldwyn) while another image shows Keating is meeting President Mellie Grant (Bellamy Young) at the Oval Office.
In the recent episode of HTGAWM Season 4, Michaela (Aja Naomi King) is seen arguing with Annalise about their case against the state of Pennsylvania over wrongful convictions. Michaela insists on asking the help of one person she knows best in doing business in Washington and who could help them bring the case to the United States Supreme Court.
Then Annalise is seen attending a lecture from Olivia Pope. Apparently, the lecture is about "How to Survive a Scandal." There is no better person to give a lecture as such than the former head of OPA-turned White House Chief of Staff and B613 head, Olivia Pope.
Scandal Season 7 Episode 12
In the Scandal crossover episode, titled "Allow Me to Reintroduce Myself," Olivia will have an unexpected visitor in the White House, criminal defense attorney Annalise Keating. Annalise will seek Liv's help to expedite her class action suit against Pennsylvania to the United States Supreme Court. However, it is not going to be a smooth ride. The team up will encounter some challenges in getting the support they need because of Olivia's failing political clout.
It looks like Liv and Annalise will also hit each other buttons throughout the crossover. In a sneak peek for the crossover, Annalise is seen telling Olivia that many consider her to be a "hot mess." Olivia defiantly response, "This is my town, my game, my rules." Judging from the exchange, it is expected that a battle between two alpha females is brewing.
How to Get Away with Murder Season 4 Episode 13
Annalise's class action case hangs in the balance following the events in Scandal. This lead to episode, titled "Lahey v. Commonwealth of Pennsylvania." A meeting with Olivia will prove to be crucial in getting the opportunity to bring Annalise's case to the nation's highest court.
Elsewhere, Bonnie (Liza Weil) will discover some concerning information about Simon (Behzad Dabu). The information she finds could expose what really occurred on the night he was shot. Simon is still in a coma in the hospital.
The Scandal-How to Get Away With Murder crossover will air on March 1 on ABC. The two-hour crossover begins with Scandal at 9/8c and ends with How to Get Away With Murder at 10 pm.
© 2019 Korea Portal, All rights reserved. Do not reproduce without permission.