'Suits' Actor Patrick J. Adams Slams GOP Candidate Over Racist Comment On Meghan Markle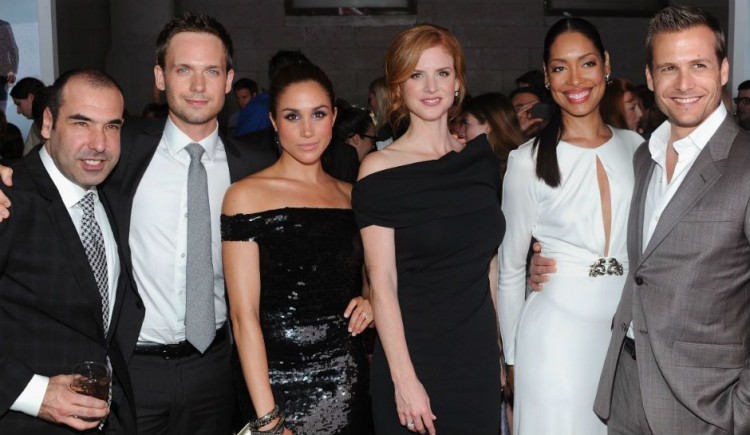 "Suits" actor Patrick J. Adams could not keep his silence on the recent racist comment against his friend and co-star, Meghan Markle. Adams has slammed a Republican candidate who wrote a comment on social media about Prince Harry's soon-to-be wife.
The actor wrote on Twitter a lengthy response to GOP Republican congressional candidate Paul Nehlen's post that mocked a picture of Markle as a Cheddar Man. Apparently, the photo features the couple, Markle and Prince Harry, but the Cheddar Man was superimposed on the actress' face. The Cheddar Man is the fossil of the first modern Brit who had "dark skin."
Adams called Nehlen as a "sick man." He wrote on his Twitter account, "Oh @pnehlen - you're a sad and sick man with no sense of shame or class. Get a life. And don't go anywhere near MM - she's got more power, strength, honor, and compassion in her fingernail than you'll ever know in this lifetime. Way above your weight class."
Markle and Adams became good friends when they work together on TV legal drama, "Suits." The two played the characters of Rachel Zane and Mike Ross, who were love interests in the series.
Paul Nehlen's Twitter Account Suspended
In the controversial tweet, Nehlen wrote, "Honey, does this tie make my face look pale?" Reports indicate that Nehlen's post has encouraged racist tweets from other users who also superimposed photos of apes onto Markle's face.
Nehlen refused to take down the photo amidst outrage from the public. Twitter, however, suspended the politician's account. The reason for the suspension is unclear, but many speculate that it was because of his racist tweet against Markle.
This is not the first time Nehlen's account was suspended by Twitter. Earlier this year, the social media site cut Nehlen's access to his account for a week after he made a series of anti-Semitic posts. The GOP candidate is running for Congress to replace US speaker Paul Ryan in his Wisconsin district.
The Royal Family's Reaction
Markle, who is a mixed race, has been targeted by racist comments since it was revealed last year that she is dating Prince Harry. The royal family has once issued a statement defending Markle against racial abuse. As for the recent racial comment about the actress, a spokesperson for Kensington Palace has declined to comment.
The 33-year-old British prince and Markle announced their engagement in November. The two are set to get married on May 19 at the Windsor Castle.
© 2019 Korea Portal, All rights reserved. Do not reproduce without permission.