'Yooka-Laylee' Comes To Nintendo Switch December 14 [VIDEO]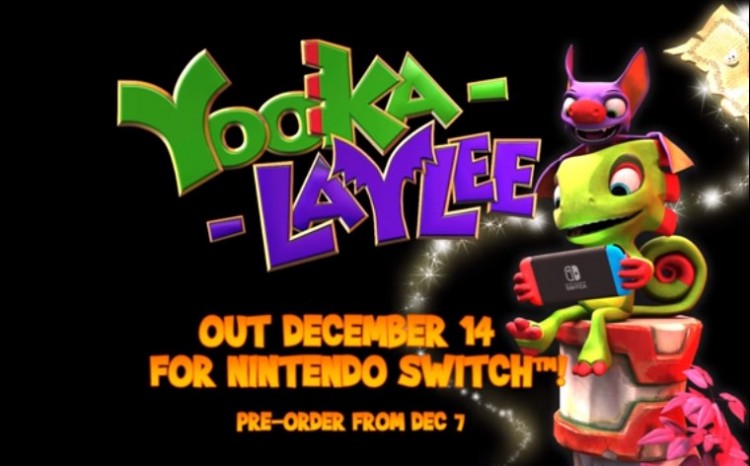 Nintendo Switch users, rejoice. "Yooka-Laylee," Playtonic Games' spiritual successor to the very well-received "Banjo-Kazooie" game series, is headed to Nintendo Switch. The game will arrive on Nintendo's popular video game console on Thursday, December 14.
"Yooka-Laylee" was launched for PlayStation 4, Xbox One and also PC in April. The game developer announced it for the Nintendo Switch in February, associating a 2017 launch date with it. During the title's crowdfunding campaign back in 2015, Playtonic promised it would come out with a Wii U version of the game.
Regrettably, those plans did not come to fruition and were completely abandoned towards the end of 2016 amid the announcement of a Switch port. In May, Playtonic rolled out a slew of speedrunners-embracing updates and even fixed the game's camera, which had been judged as bad in the launch version's review.
When the said update was still in development, the studio revealed the stuff it was gearing up to include in a blog post on its official website. According to the post, the game will include the ability to omit cutscenes or lower those irksome noises.
On Tuesday, November 28, Playtonic shared another post on its official website noting that the Switch version will come with that adjustment. Additionally, it will include an array of awe-inspiring improvements and updates such as a custom Achievement system and single-JoyCon play for all eight multiplayer games.
A large number of developers from Rare, the maker of "Banjo-Kazooie," joined Playtonic. Created specifically to stir pleasant remembrances of "Banjo-Kazooie," which was playable on the Nintendo 64, "Yooka-Laylee" garnered a mixed critical response from avid gamers.
It is safe to say that "Yooka-Laylee" is custom-tailored for the Big N's hybrid home/portable console. The game is ideal for those who have already cleared "Super Mario Odyssey" and are still looking for an old-fashioned 3D platformer.
With support and technical help from Unity and Nintendo, the development team spent several months trying to make "Yooka-Laylee" perfect for Nintendo Switch. Playtonic believes Nintendo loyalists can pride themselves on the version they are offering. "Yooka-Laylee" will be up for pre-purchase via Nintendo Switch Eshop starting December 7.
© 2018 Korea Portal, All rights reserved. Do not reproduce without permission.