LeBron James Could Consider Philadelphia 76ers New Home Once Became Free Agent
by
M.O.B.
/ Nov 30, 2017 08:29 AM EST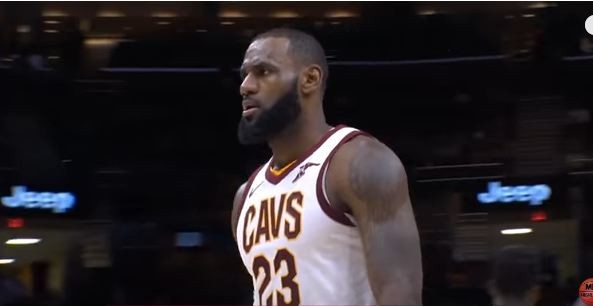 LeBron James might become a free agent following this season. If he chooses to retire from the Cavaliers, it would be a better decision to join the team of the Philadelphia 76ers. Executives are positive that the president of basketball operations Bryan Colangelo will sign him up.
The 76ers could be a tempting choice for James especially if his aim is to challenge for the championship. If he sees that Cleveland is not the place for him anymore, he could consider joining the roster of Philadelphia 76ers. The team is one of the few that have substantial payment cap space to utilize in the summer next year. A few more moves to near the maximum salary of $34 million for James in the first year might be done, according to USA Today.
James said on a September media day, "Anytime I'm able to be a free agent or my contract is ending, I'll approach that when the summer comes."
James is not getting any younger and will turn 33 on Dec. 30. He could enlist in a team with a younger generation that consists of All-Star competent players including Robert Covington (26), Markelle Fultz (19), Joel Embiid (23), Dario Saric (23), and Ben Simmons (21) among others. Besides, Philadelphia 76ers is the second team which has the youngest players and the third most-unseasoned headcount in the NBA this season.
Philadelphia 76ers is exciting and has a killer instinct aside from having Brett Brown as the head coach and James is an avid fan of him, SB Nation notes. There is no excuse that he will not appreciate playing for him and for the team in case he decided to be one of them.
"The organization has done a great job believing in Brett Brown's system, believing in what he wanted to do and they gave him time," James said during the game before the Cavaliers beat the Sixers, 113-91, on Monday.
However, even how good the offer will be, there are also things that should be taken into consideration. Kyrie Irving exited the Cavaliers and James to join Boston Celtics so he could build his own heritage being a star player and not the "The King's apprentice". With James' dramatic entrance to Philadelphia, he could disarray the chance to do the same for Embiid, Fultz, and Simmons.
Meanwhile, James has been ejected from the game while playing against the Miami Heat on Tuesday. The incident happened during the third quarter of the game when referee Kane Fitzgerald did not call on a foul after Miami's James Johnson and Dion Walters drew contact.
© 2019 Korea Portal, All rights reserved. Do not reproduce without permission.