Dok2's Red Ferrari Recovered Just in Time Before Sold Off for $74,000
by
M.O.B.
/ Nov 27, 2017 09:18 AM EST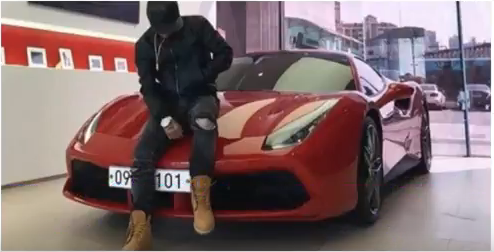 Dok2's red Ferrari has been recovered after the GPU system sent him a warning that it is being removed. He wasted no time and reported to the Busan Metropolitan Police Agency right away to recover his prized car worth more than $367,000 from the black market known as the "Ghost Car Online Dealership".
One of the founders of Illionaire Records, Dok2 (pronounced as Dokki) has a deep passion for luxury cars. The incident of his stolen Ferrari happened way back in June. The vehicle was spotted not in the streets but online in an illegal used car depot business and is for sale for about $74,000.
Dok2 whose real name is Lee Joon-Kyung, lent his car to a certain friend, however, according to past reports the borrower was scammed. The illegal rental car business agent told Dok2's friend that they would pay 1,000,000 KRW ($900) for a day's rental. The precious Ferrari was entrusted to a used car warehouse, allkpop reports.
On Tuesday, the authorities filed charges against the 10 car brokers for trading cars not recorded under their names. Those 147 others who either borrowed or bought stolen were also accused since they knew that the cars were stolen.
According to Korea Joongan Daily, a certain Mr. Min (his last name) headed the brokers and ran a car company which name was only borrowed. The modus operandi of the company is to steal the cars they already sold for reselling to generate profit. The group's website known has been operational since June 2015 and was able to bring about 329 million won in total profit.
Dok2 claimed that he has no idea that his red Ferrari was stolen and included in an illegal online auction. He left the car to that certain friend to use while he was away for a business trip in the US for a few months.
© 2019 Korea Portal, All rights reserved. Do not reproduce without permission.