Prince Harry and Meghan Markle are officially engaged: Prince knew she's the one the first time they met
by
M.O.B.
/ Nov 28, 2017 11:48 AM EST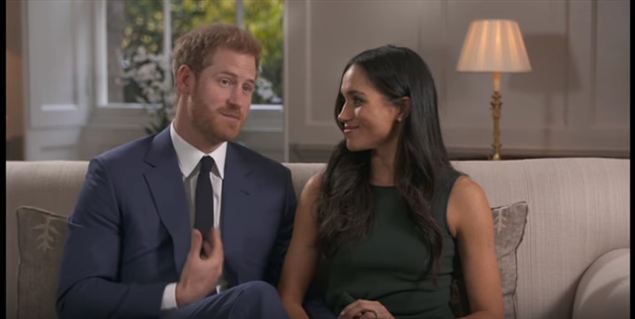 Many anticipate the royal engagement announcement of Prince Harry to Meghan Markle. Kensington Palace would not provide any details adding to the excitement of the people around the world who are also waiting for the wonderful news.
Without further ado, the Prince of Wales announced the engagement of his grandson, Prince Harry to American actress Meghan Markle yesterday morning. He mentioned that the couple has been dating for almost a year and a half and will exchange vows in the spring next year, The Telegraph reports.
Prince Harry admitted that he knew Meghan is the one he is looking for ever since the first time they met. He designed the engagement ring himself. He used two diamond stones which belonged to his late mother Diana, Princess of Wales. The bigger central diamond came from Botswana where the prince used to frequently visit during his childhood. The Cleave and Company, Court Jewellers and Medallists created the ring while the band is made of gold.
Prince Harry and his bride-to-be Markle came to know each other in July 2016 on a blind date. He confirmed their relationship in public a few months later in an admonition to the media because of their trespassing into her private life. However, in September, the couple made their public appearance when they both attended the Invictus Game in Toronto, Canada, ABC News reports.
Last Tuesday, it is noticeable that the Metropolitan Police's Protection Command escorted the "Suits" actress. It is considered a sign that a royal wedding is just around the corner. It is the first time that Markle was seen chaperoned by taxpayer-funded security.
The same thing happened to Kate Middleton, now Duchess of Cambridge, following her secret engagement to Prince William. After almost a month after their engagement in Kenya, Kensington Palace officially proclaimed of the couple's betrothment in November 2010.
Once married in spring next year, Markle will have the title "Her Royal Highness, Princess Henry of Wales". Since she is not of royal blood, she cannot become Princess Meghan.
© 2019 Korea Portal, All rights reserved. Do not reproduce without permission.