Elon Musk Hints That Upgraded Tesla Roadster Might 'Fly Short Hops'
by
Sanjana
/ Nov 22, 2017 10:15 PM EST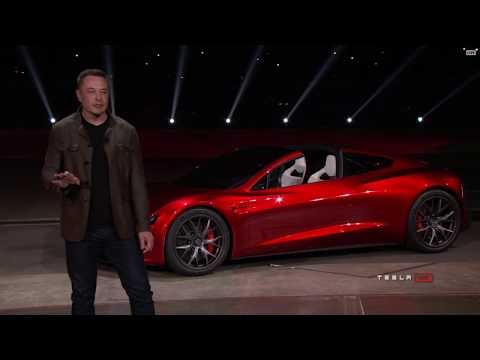 Tesla CEO Elon Musk has unveiled the next-generation Roadster at a press event, last Thursday. With a 0-60 mph time of just 1.9 seconds, the base model of the car is amazingly quick. But Musk revealed on Sunday that there will be a special upgrade package which would take the car to the "next level."
"Not saying the next generation Roadster special upgrade package *will* definitely enable it to fly short hops, but maybe ..." Musk revealed via Twitter. "Certainly possible. Just a question of safety. Rocket tech applied to a car opens up revolutionary possibilities," he said.
However, it seems hard to believe that a production car going faster than 0-60 mph in less than 1.9 seconds. After all, Formula 1 cars hit the same mark in about 1.3 seconds but they aren't street legal.
But Elon Musk isn't shy about pushing the limits. Considering the fact that he is also CEO of SpaceX, he has the rocket tech, which could be applied to Tesla cars. Previously, the car maker already collaborates with SpaceX on several things.
"Given that Tesla and SpaceX are totally non-competitive and have a similar first-principles approach to problem-solving, employees at one company are occasionally able to share ideas that help the other," a Tesla spokesperson confirmed Bloomberg in the month of September.
Besides its amazing quick acceleration time, it also has a top speed of about 250 mph and a 250-kilowatt-hour battery pack, giving it a 620-mile range. More details about that quarter-million-dollar Tesla Roadster won't be out until next year, Musk said that "We're gonna talk about things beyond base maybe next year sometime."
The base model of the Tesla's Roadster will start at $200,000, and if you want a Founder's Series Roadster then you'll have to spend $250,000. Right now, a reservation will set you back $50,000 for the base model of the car.
© 2020 Korea Portal, All rights reserved. Do not reproduce without permission.